Wall clears up comments, says he is back to having fun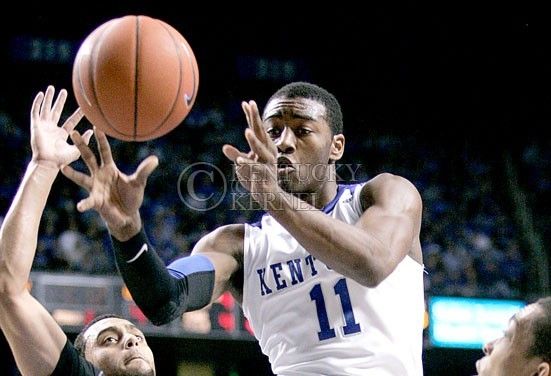 John Wall is having fun again. Therefore, the Big Blue Nation is too.
After hearing criticism made by UK head coach John Calipari about his performance in Jan. 26's game against South Carolina, the Cats' lone loss, Wall said he didn't think he had played that bad and he didn't know what to expect. Wall also said he tried not to listen to Calipari and just go out and help the team win. On Tuesday, Wall cleared up his comments and said he was frustrated at the time.
"When you're frustrated you're going to say a lot of things you don't mean," Wall said. "We sat down and talked about it and I realized that after I watched the film I did play bad. I had a lot of key turnovers down the stretch and I didn't lead the team like I was supposed to.
"It's all behind me," Wall said. "Now I'm back to having fun."
For Wall, the No. 1 point guard in the country coming out of high school, the praise has come early and often. The electrifying point guard has donned the covers of Sports Illustrated and Sporting News and is being called the future No. 1 pick in this summer's NBA Draft. Wall said Saturday Calipari's comments bothered him, but on Tuesday he pointed to the success of past Calipari-coached point guards, Derrick Rose and Tyreke Evans, and how successful they've been.
"The main thing is just listening to him because he knows what he's doing," Wall said. "Like I said, Derrick (Rose) and Tyreke (Evans) are doing great in the NBA. He told me to call those guys if I need any advice because they've been through the same thing."
Calipari said the whole opportunity is another great learning experience for a young player learning how to deal with so much attention. Calipari said Wall walked into his office and looked like a "puppy dog" and he should have known something was wrong. Calipari told him that he wasn't going to play great every night and that he was playing fine.
"(He said), 'Coach I love you.' (I said), 'I love you too.' " Calipari said.
"A lot has been thrown at him, league has gotten harder and there aren't as many easy plays, Calipari said. "Now there is a frustration level of now it's time to step up, you're the marked man, and they're coming at you. It's stuff we talked about. He's never been in this kind of environment or this kind of situation."
Calipari said Wall is still learning, and he wasn't going to be the last coach to tell him that he didn't play well. That's good news for Wall who said if he played poorly and a coach still kept telling him that he was playing fine that it wouldn't be good and wouldn't prepare him.
"Like I said, I love Coach Cal and he loves me," Wall said. "We're just trying to get everything down pat. We're cool where we're at."