Tobacco ban causing students, faculty to quit smoking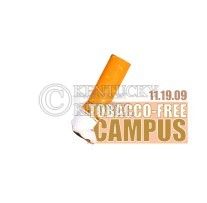 The­­­­ campus-wide tobacco ban may actually be spurring UK smokers to kick the habit.
According to data compiled by the Tobacco-Free Task Force, the number of people on campus using university-provided resources to quit smoking has doubled since the tobacco ban went into effect at UK.
To help people quit, UK offers The Behavioral Health Improvement Plan, a free health-coaching program for UK students, faculty and their spouses.
The tobacco ban went into effect on Nov. 19, 2010 amid student protests and opposition.
From Oct. 1 to Dec. 31, 2009, about 58 people enrolled in nicotine-replacement, according to the data. Nicotine replacement therapy helps students who decide to quit using tobacco through the distribution of patches, gum and lozenges, according to the UK Web site.
About 67 people participated in the phone- and e-mail-based programs.
Prior to Dec. 1, 2009, about 19 people had used the free nicotine-replacement therapy offered by the program, 12 of which said the tobacco ban encouraged them to do so.
From Oct. 1 to Dec. 29, UK Health and Wellness, Physical Activity and Wellness Schools and UK Healthcare saw 72 nicotine-replacement therapy coupons redeemed.
Audrey Darville, a tobacco treatment specialist, has counseled about 51 according to the study.
At a Tobacco-Free Task Force meeting last week, committee co-chair Ellen Hahn said two tobacco violations had been reported to the Vice President's Office, but neither person had followed through with reporting it to the Dean of Students or Human Resources.­­­ In a phone interview with the Kernel, Hahn said she thinks the low number of violations reflects that people are complying with the tobacco ban.
"I think the bottom line is … for a new policy like this, I think it's going well," she said.
Hahn said the university is still in a fact-finding stage, and the task force will continue to evaluate how the policy is going.
"We're kind of assessing the campus to see if there are any hot spots and making sure that the signage has been replaced," she said.