VP affairs search brings 2nd candidate to campus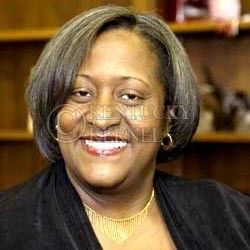 Mother Theresa is coming to UK — Temple University's Mother Theresa, that is. 
Theresa Powell, the current vice president for student affairs at Temple University, will be on campus Monday as the second candidate for UK's vice president of student affairs position.
Temple University, located in Philadelphia, Penn., has about 27,000 undergraduate students, and Powell has worked there for eight years.
Stephanie Ives, one of Temple's associate vice presidents for student affairs, has worked with Powell for 18 months and said she is a beloved figure on campus.
Kylie Patterson, Temple's student body president, said in an e-mail to the Kernel that it seems like there is a rule on campus: when people see Powell they give her a hug.
"Getting (Powell) across campus for a meeting is almost impossible," Ives said.
Temple used to be more of a commuter school but is now becoming more of a residential university, Ives said. As vice president for student affairs, Powell has overseen the transformation of the residential communities, Ives said.
With more students living on campus, Powell has directed the development of more recreational facilities and a counseling center, Ives said.
After the Virginia Tech shooting in April 2007, Ives said Powell helped develop Temple's behavioral team: Crisis, Assessment, Response and Education.
Michael Scales, Temple's other associate vice president for student affairs, said the CARE program is Powell's major accomplishment at Temple.
Powell is an advocate for the "little guy," Scales said. Everyone has a voice and experience that is important to her, he said.
Ainsley Carry, the current vice president for student affairs at Auburn University, is one of Powell's former mentees.
"It is because of her mentorship and guidance that I am today a vice president for student affairs at Auburn University," Carry said.
Carry said students love Powell and that she is their Mother Theresa.
Powell earned a bachelor's degree at the University of Pennsylvania, a Masters of Education at Texas Christian University and a Ph.D in Educational Administration at The Ohio State University, according to her resume.
Powell has worked at numerous institutions including Texas Christian University, University of Delaware, Wilberforce University, The Ohio State University and Western Michigan University.
Carry said the vice presidents for student affairs in the Southeastern Conference have become a fraternity of colleagues and they look forward to welcoming a new one.
"She understands the South, she understands the Southeastern Conference," Carry said. "She loves large institutions with great Greek life programs and strong athletic programs, so I think she would do well at Kentucky."
The forum will be in room 230 of the Student Center at 3:30 p.m.