Speaking changes highlight trustee committee meetings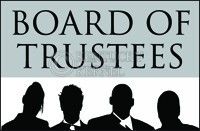 On Monday and Tuesday, the UK Board of Trustees will meet for the first time since Dec. 1 to discuss a myriad of campus issues.
Student Government President Ryan Smith said the Student Affairs Committee will be covering housing issues, possible changes to the basketball ticket lottery and possible changes to the speaking procedure at board meetings.
Smith said he has been meeting with other board members about these possible changes, and is hoping to further the discussion during the upcoming meetings.
On Oct. 27, the board met to vote on naming the new Wildcat Lodge the "Wildcat Coal Lodge." Students attended the meeting to protest, but were told they did not follow procedure to speak during the meeting.
"We want to see a fairer system where students will be able to express their views," Smith said.
In December, the board approved a contract with Ameresco, an energy service company out of Louisville to monitor and reduce energy consumption on campus.
At that meeting, Smith also proposed a  split-finals week.
Smith said he will speak on the negotiations with Robert Mock Jr. for the vice president for Student Affairs position.
"Student input was crucial to selecting the candidate," he said. "I'm really excited about Mock. I think he's a great guy."