U.S. Senate candidate Mongiardo to visit UK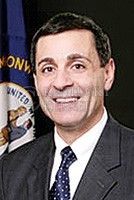 A candidate for Kentucky's U.S. Senate seat believes energy, transportation and health care are the three core components that would help the state's economy — and he is coming to UK to speak Tuesday night.
Lt. Gov. Daniel Mongiardo, a 1986 UK Medical School graduate, said providing jobs to people in the state is his number one priority, according to his campaign Web site.
"Washington works great for Wall Street and for sending our jobs overseas, but it doesn't happen for Kentucky," Mongiardo said. "We're going to have to start sending different people up there, not just lawyers and politicians."
According to his campaign Web site, if elected, Mongiardo wants to improve Kentucky's schools and develop clean Kentucky coal to reduce dependence on foreign oil.
Mongiardo said college students are important members of his campaign, and they should be concerned with today's issues because the issues will affect them in the future.
"What happens in Frankfort, what happens in Washington, directly affects what happens after you graduate, and tuition," he said.
Tim Pearce, president of Students for Mongiardo on UK's campus, said he has not met another politician that is as good with people and genuinely listening as Mongiardo.
"(Mongiardo's) campaign is different than all others," Pearce said. " … he is really excited about student involvement."
Mongiardo referred to himself as "a little kid from eastern Kentucky with a funny last name," and said he would not be where he is today if it were not for education. He said working toward funding is important.
"(College has) just gotten too expensive," he said.
Mongiardo will speak to members of the UK community on Tuesday at 8 p.m. in room 206 of the Student Center. The event is free and open to the public.