Greek political committee will not endorse SG candidate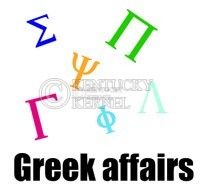 A streak will be broken this year in Student Government elections. The past 19 of 20 candidates for SG President and Vice President have all been endorsed by the Greek Political Action Committee. This year, however, the GPAC announced it will not endorse a candidate.
The decision to not endorse a candidate was made for multiple reasons, said Interfraternity Council President Kelsie Willett.
"We wanted candidates to get their ideas out there and let students make a decision for themselves," Willett said. "And there had been trouble in the past with how endorsements had been done."
The GPAC debate this year will take place Wednesday at 8 p.m. in Memorial Hall. Willett said it is an opportunity for students to become more familiar with the candidates and their plans for campus.
"(A forum) is a little more personal than a platform idea on a Web site," he said.
The questions were created by a committee, Willett said, and will be selected and moderated by political science professor Stephen Voss.
Candidates for president Ryan Smith, the current SG president, and Michael Haag will each have two minutes for opening remarks, 70 seconds for question responses and another two minutes for closing remarks.
Candidates for vice president Kelsey Hayes, the current SG vice president, and Julie Colgate, current senator at large, will have 90 seconds for opening remarks, 70 seconds for questions and 90 seconds for closing remarks.
Willett said although the event is hosted by GPAC, the forum is not limited to Greeks. All students are invited to attend.
No fliers or pass-outs will be permitted. At the end of the debate, sources of additional information about the candidates will be announced.