Greeks 'stomp' for charities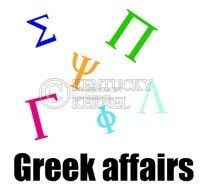 By Hope Smith
At least ten UK fraternities and sororities will take some stomps toward a better community on Wednesday evening.
Stomp-A-Palooza 2010, which is presented by Alpha Phi Alpha and Kappa Alpha Theta, will showcase dozens of Greeks performing their original step show routines.
"A step show is a performance by various organizations using stepping, which is essentially a type of dance where you use your body as a percussion instrument," said Andrew Pillow, Stomp-A-Palooza co-chair and a Kernel staff writer.
One popular example of a step performance crew is "STOMP," a group who uses their hands, feet and common items like trash can lids, old washboards and metal poles to produce music and dance.
"People are going to see something that they have never seen before," said Julie Rosing, Kappa Alpha Theta's vice-president of public relations. "Stepping is a fast-paced, exciting thing to watch and experience live."
The performing groups have been practicing their four-to-seven-minute routines for weeks. Experienced Alpha Phi Alpha steppers have been coaching participants along the way. Stomp-A-Palooza is a friendly competition held to raise money for philanthropies, but trophies are still at stake.
"It is an actual competition judged by a panel of five … but definitely good-natured between teams," Rosing said.
Last year, groups made beats on the floor with yellow bats, drew inspiration from the film "300" and combined foot stomps and arm sways in near-perfect harmony in front of about 600 people to raise more than $3,000.
This year, the proceeds from the ticket sales will be given to Alpha Phi Alpha's philanthropy, the Dr. Martin Luther King Jr. Memorial Fund, and Kappa Alpha Theta's philanthropy, Lexington Court Appointed Special Advocates.
"CASA volunteers advocate for children that are placed in the family court system due to neglect, abuse or dependency," Rosing said. "It is sometimes hard for us to have a hands-on experience with it, so the easiest and most tangible way that we can show our devotion to them as our philanthropy is to raise as much money as possible to donate to this great organization."
This is the sixth year Stomp-A-Palooza has been held, and it was originally started by Alpha Phi Alpha, Pillow said.
Organizers are expecting a bigger turnout this year due to increased marketing and decreased ticket prices.
"People can expect to see well put-together, exciting and humorous shows," Pillow said. "People should come out to support the causes and just be entertained."
Stomp-A-Palooza will be held Wednesday at 1 p.m. in the Singletary Center. Tickets cost $6.