Cats fans ask for 'one more year'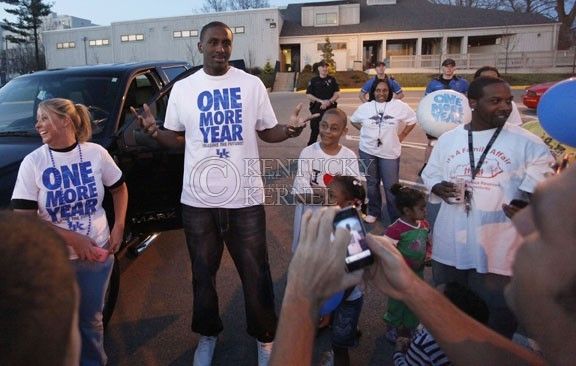 By Drew Teague
One local business set up a march to head down and try and convince campus celebrities of a cause.
David Ware, owner of The Inkspot just off Limestone, set up a march to head over to Wildcat Lodge to try and convince the UK men's basketball team to stay and play for UK for "one more year"
"One more year!" and the C-A-T-S cheer were the battle cries as a crowd of 30 to 40 people walked down the sidewalk of Limestone toward Wildcat Lodge to try to bring out some of this year's basketball team, trying to convince the athletes to stay for another season.
Ware thought of the event not long after the Cats lost in their Elite 8 game to West Virginia.
"We teamed up with a Web site on Facebook and we decided we were going to do a shirt," Ware said. "Then online, people started using it as their picture on Facebook, so since we have the place on Limestone, we said we'd host it, we'd do a march and that's what everybody online wanted."
With more than 150 people confirmed to attend from the Facebook event page, Ware figured the event would be a success. People even walking on the street joined the march to the lodge.
"It's a great little crowd that turned out," Ware said. "And they got to see Patrick (Patterson), so it was worth if for everybody."
Though there were UK students present, like Anasha Acton-Wimsatt, a communications freshman.
"I came to see the basketball team and see if they are going to stay one more year," Acton-Wimsatt said. "They've been a great asset to UK basketball and they've done really well and they are really good guys."
As the crowd neared the parking lot next to Wildcat Lodge, there were more people waiting. As the crowd got closer they realized it was Patterson, already outside taking pictures with people and signing autographs. Several people of the rally group began to race toward the player.
As they surrounded the vehicle, the group began to chant "One More Year" to a surprised Patterson. One of the workers from The Inkspot came over and had Patterson put on a "One More Year:  Imagine the Future" T-shirt.
Patterson was asked by Ware if there was anyone else who the crowd could try to rouse out of Wildcat Lodge.
"No, they are in Indy," Patterson said.