New faculty trustee brings enthusiasm, calls for change to certain board policies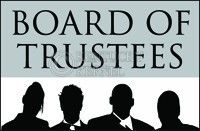 The new faculty representative to the UK Board of Trustees wants to change the way the university's governing board interacts with the rest of campus.
On April 16, Joe Peek, the Gatton Endowed Chair in International Banking and Financial Economics, won election to the UK Board of Trustees as a faculty representative. Peek's 3-year term will begin on July 1. Peek said he is planning to break down walls between the board and the rest of campus.
"I would like to see more openness," Peek said. "Faculty, staff and students — we're all in the same boat here, we're UK and we need to make the place better."
Peek said his main priority is opening up the university administration to more staff, faculty and student involvement. He said the current policy of reserving one of the Patterson Office Tower elevators for trustees during meeting days was an issue he wants to change.
"Many might think that is minor, but there are faculty and students that need those elevators," Peek said. "Why can't trustees ride in the same elevators as faculty and students? Are they afraid of what they might hear? The trustees are isolated and out of touch with the UK community."
Peek said a prime example of the disconnect with the board is the debate over the renaming of the Wildcat Lodge to the Wildcat Coal Lodge. Peek said it shouldn't be that difficult to get a dialogue with the Board of Trustees.
"During the debate, a group of students went to the trustees meeting and weren't allowed to speak," Peek said. "I wrote a column for the Kernel about the Board of Trustees putting up a wall around themselves."
Peek wants to change the access rules so that members of the UK community can speak to the trustees. Currently it takes a process including several levels of approval to address the board. Sometimes not enough time exists to go through the process, Peek said, because the agenda is typically published shortly before the scheduled meeting.
"The agenda should be provided at least three days prior to the meeting because if an issue is important enough for the Board of Trustees to discuss, it is important enough to have an informed discussion," Peek said.
Peek also suggested expanding and enhancing the honors program and increasing the stipend offered to graduate students as cost effective measures to make UK more competitive. He said he would also like to see the UK administration turn to experts in the campus community for more input rather than hire high-cost consultants.
"I bet I can come up with 100 examples where we have expertise just sitting here, instead of using it we're going out and hiring consultants," Peek said. "If you believe we're producing a quality product you shouldn't be afraid of using it yourself."