Officials to answer tuition questions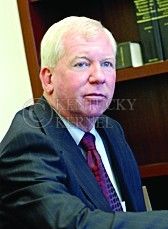 Students will have a chance to let administrators know their thoughts on tuition face to face Wednesday.
Frank Butler and Angie Martin, vice presidents for finance, are hosting a forum to discuss tuition and fee rates for the upcoming academic year on Wednesday at noon in the Worsham Theater in the Student Center. Students received an e-mail announcing the forum on Monday.
UK spokesman Jimmy Stanton said the forum is an opportunity for students to receive preliminary information related to tuition for next year and also to ask any questions they may have. The forum will focus on tuition and fees, which are used to fund student services.
Alyssa Lanter, an integrated strategic communications junior, said she would like to hear the administrators answers because she feels unaffected by the fees she pays.
"The yearly tuition increases are ridiculous because I never see any changes that affect me personally other than the payment," Lanter said.