Latina sorority recognized on campus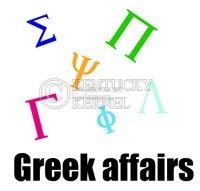 A UK sorority had issues last year preventing it from officially being recognized on campus, but now the chapter will be making its mark this week.
Delta Phi Mu, a Latina-inclusive sorority, will be sponsoring events all week that culminate in the Central Kentucky Heart Walk on Saturday.
The UK chapter of Delta Phi Mu was officially formed on Feb. 23, 2008, but paperwork issues prevented the sorority from being official on campus. Now the five sisters are officially on campus.
"We really want to get our name out there and (show) that we're distinguished ladies where our first priority is to get to know other students," said Cristy Anderson, a secondary English education sophomore and the chapter's secretary.
Monday's Red Dress fashion show kicked off the week's events, and Break for a Cause will wrap up the week on Friday, raising money for the Central Kentucky Heart Walk. DJ Warren Peace will be on the turntables, and the event will be from 8 to 10 p.m. at the Student Center patio.
"For me personally the most important event would be Break for a Cause," said Cynika Murphy, a psychology junior and vice president of the chapter. " … Because it would be about uniting the student body."
The three tenets of Delta Phi Mu are scholarship, service and sisterhood. According to the chapter website, these three pillars address the discord between genders, races and cultures.
Delta Phi Mu was originally founded at Purdue University on Aug. 21, 1991, and five chapters currently exist, with UK being the newest chartered chapter.
"The events that we hold, we like to show what we were founded upon," Anderson said.
Power-based violence is an issue that Delta Phi Mu has focused on, and Wednesday there will be a Delta Phi Mu-sponsored self-defense class in which Krav Maga will teach an Israeli self-defense technique. The event will be held in room 249 of the Student Center from 8 to 9:30 p.m.
Anderson said one of the goals of the chapter is to address all women on campus and to not exclude anyone.
"That's why we're an inclusive sorority," she said.
On Thursday, the Inner Beauty and Self-Esteem Workshop will be held in room 206 of the Student Center at 7:35 p.m.