UK athletics hits halfway point, aims for more wins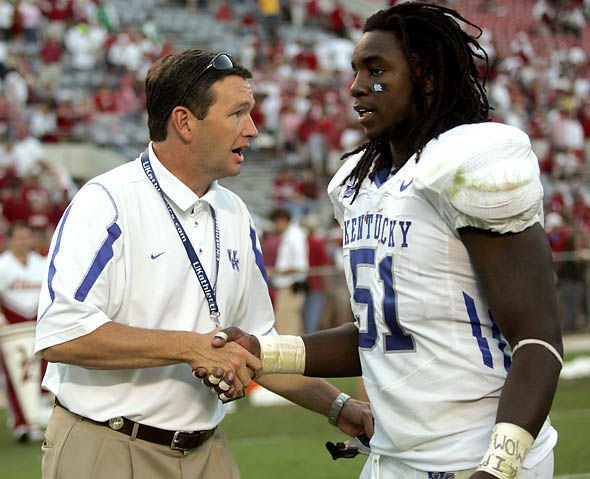 UK athletics is on its way to reaching its goal of championships and program rankings.
UK Athletics Director Mitch Barnhart told the UK Athletics Board Monday that the 15 by 15 by 15 plan is well on its way to fruition.
According to the plan that was implemented two years ago, Barnhart hopes to win 15 tournament, conference and national championships and rank in NCAA's top 15 programs, all before the year 2015.
Barnhart said according to the current Learfield Sports Directors' Cup rankings, UK sits in 13th place in the nation and second in the SEC, behind Florida.
Last year, UK placed 34th overall.
Part of the success can be attributed to the men's basketball team and UK's rifle team, both with two championships in the past two years.
"When we started two years ago, we wanted to achieve the 15 by 15 by 15 plan," Barnhart said. "If we hold our spot, we will clearly be on top of that."
Barnhart mentioned other athletic achievements such as men's basketball head coach John Calipari being the first UK coach to receive the Adolf Rupp Award.
The UK Athletics Board also passed a measure to increase season ticket and single-game ticket prices $6 across the board.
The price hike is on par with past ticket prices, according to a board presentation, with an increase of $5 from 2008 to 2009 and an $8 increase from 2007 to 2008.
The new sideline season ticket price is set at $272, and end zone season tickets will sell at $237.
For non-Bowl Championship Series football games, general admission tickets will now cost $41, and BCS football game tickets will sell for $46.
In comparison with other SEC season ticket prices, Kentucky ranks eighth, above Mississippi with $295 and below Georgia with $240. Auburn sells the most expensive season tickets at $445.
The price increase will generate $1.2 million in new revenue, should next year be a sell-out year for season tickets.
UK athletics has the broadest program in the SEC, with only an average SEC budget. Auburn, Alabama, Florida, Louisiana State, Tennessee and Georgia all have higher budgets.
The athletics board also approved a $50 adjustment to all current K-Fund seats. The increase is expected to raise $1.8 million in new revenue.
Currently, the K-Fund generates $11.8 million in revenue. Florida, Georgia and Tennessee generate more than $25 million annually from their seat fees.
Part of the reason for the difference is the number of available seats at football games, said Barnhart, which can reach up to 80,000. Commonwealth Stadium seats 67,606. Also, most institutions require annual seat fees for all seats. UK still reserves some seats without annual fees attached to them.
The K-Fund fees will now range from $150 to $575 per seat. According to the presentation, seat fees across the league range from $50 to $5,000.