Staying Above Par: Parker becomes UK golfer named to All-Freshman team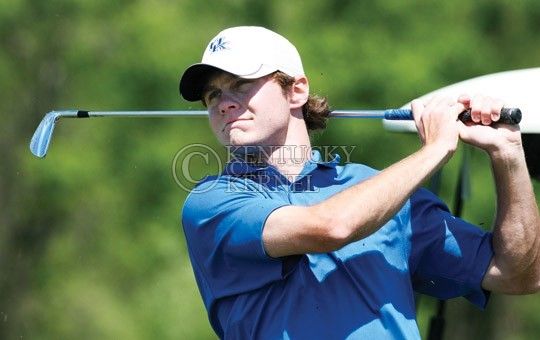 At a school known for the fantastic freshmen in its basketball program, UK's men's golf program has a fantastic freshman of his own.
Chase Parker, a 19-year-old student in the College of Agriculture, was named to the Southeastern Conference All-Freshman Team on Tuesday. Parker is the first UK freshman to receive the honor since its creation three years ago.
"It is such a great honor because the SEC is such a great conference," Parker said. "In my first year here at UK the honor was definitely unexpected, but I am very proud."
As a freshman, Parker has emerged as one of the most talented and consistent players on the team.
He sported the UK blue in 10 matches this season, including the last seven matches to close out the year.
In his last event at the SEC Championships, Parker posted a 54-hole score of 216, about 72 strokes per round, including a 2-under-par 68 in the second round.
His three-round score was good enough to earn him a 22nd place finish at the conference championships, and was the second lowest score posted by a UK golfer for the weekend.
"We definitely played the best we have played all year that weekend," Parker said. "We all went out there with the attitude that we could win the whole thing, and even though we fell short we still played well as a team."
Back in November at the Hummingbird Intercollegiate in Sapphire, N.C., Parker played the best golf he has played all season long.
With a day one score of 72 and a day two score of 70, he finished at even par for the tournament. His score of 142 for the tournament was good enough for 15th place, his best finish of the season, and helped the team to a 2nd place finish.
"I played pretty well that weekend," Parker said. "I played decent the first day. The second day we were playing really well as a team and I was playing really well myself. Unfortunately we crumbled at the end and that knocked us back some as a team, but it is still some of the best golf I have played this season."
A native of Augusta, Ga., home of golf's most sacred tournament in The Masters, Parker continued to amaze the competition week in and week out.
With a team-low stroke average of just over 74 per round for the season, Parker shows plenty of potential as a golfer. And as only a freshman, he is looking to improve his game more and lead UK's golf program to places it has never been before.
"I have nothing but great feelings about the next few years," Parker said. "Next year will be good; we have a lot of young and talented players coming in. As for myself, this year was a good chance for me to learn where I fit in on the team. From here on out, I plan to go out there with the mindset of a leader and set an example. I will need to be up on my game, but I like the feeling of performing for the team and being a leader."