Storms flood ATO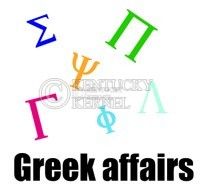 For the second time in two years, students living in Greek housing had to evacuate their homes near finals week.
On Saturday, the basement of the Alpha Tau Omega Fraternity house flooded with sewage, causing several students to move to temporary homes.
Freshman Dan Byers, who lives on the second floor of the house, said the basement began to flood during a period of heavy rain on Saturday afternoon.
Byers said the Physical Plant Division responded on Saturday, but six to eight students living in the basement had to find a place to stay that night, and some residents not in the basement voluntarily left.  Byers said everyone was able to find housing for the night.
The Kernel could not reach the PPD for comment Sunday afternoon.
Byers said he felt bad for those living in the basement but was grateful to live on the second floor.
Sophomore Alex Olivia, ATO's house manager, said the PPD is handling the situation.
"Everything is all right, and everyone is OK, and that's all we're worried about," Olivia said.
In December 2008 the Kappa Sigma Fraternity house was evacuated because of fire code violations.