Lambda Chi suspended indefinitely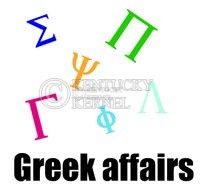 All activities at the UK chapter of the Lambda Chi Alpha fraternity have been suspended after police issued underage drinking citations early Sunday.
According to a press release issued by the Indianapolis-based Lambda Chi Alpha headquarters, the UK chapter has been placed on emergency suspension.
UK Police Chief Joe Monroe said the department received an anonymous noise complaint after midnight on Saturday evening for the Lambda Chi house on Huguelet Drive. Officers issued eight citations for minor possession of alcohol, Monroe said.
Tad Lichtenauer, director of communications and information technology for Lambda Chi Alpha Fraternity Inc., said the emergency suspension policy is a "broad umbrella," meaning the fraternity has been suspended for something other than financial reasons.
The international headquarters is working with the school to investigate what happened and said the university will take the lead in the investigation. And because of the suspension, the fraternity cannot have any events or meetings until further notice from headquarters, Lichtenauer said.
The suspension means the UK chapter will not be participating in recruitment this fall.
Interfraternity Council president Kelsie Willett said he received a call early Sunday morning from Lambda Chi president John Nunnelley telling him that the fraternity would not be participating in recruitment because of the suspension.
Nunnelley was unavailable for comment, and UK spokesperson Gail Hairston said the Dean of Students Office is currently investigating the incident, but will have no comment until the investigation is complete.