Lambda Chi declared inactive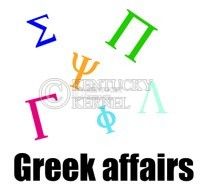 Lambda Chi Alpha's nationals has declared the UK chapter inactive after UK Police cited the fraternity for underage drinking at its on-campus house in late August.
According to a news release, the Indianapolis-based Lambda Chi Alpha headquarters intends on reestablishing the chapter in the future. To do this, the chapter must comply with alumni, UK and the fraternity. No timetable was set for the chapter's return.
Because of its inactive status, the chapter is closed, and no member can represent the organization or conduct events in the fraternity's name.
UK Police Chief Joe Monroe said the department received an anonymous noise complaint after midnight on Aug. 22 for the fraternity house on Huguelet Drive. Officers issued eight citations for minor possession of alcohol, Monroe said.
After the incident, headquarters placed the chapter on emergency suspension, meaning it could not participate in fall rush. Headquarters then worked with UK to investigate the incident.