Monroe celebrates first year as chief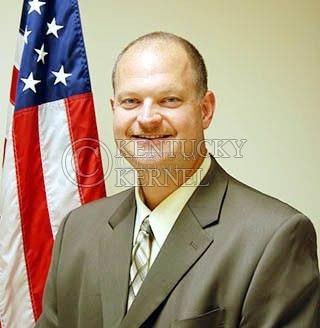 By UK's police chief has been in charge of the police department for more than four years, but he is just now about to mark his first full year with the official title.
UK Police Chief Joe Monroe said the beginning of the year has gone as he expected, but he is glad to have some help.
"We use a task force that is a combination of Lexington police officers and UK police officers, and they work side by side on a specialized task force," Monroe said. "And all they do is patrol the campus area."
The joint effort will last through the first six weeks of the semester.
Monroe aims to make campus safer for students this school year, and he would also like to see his police force grow.
"I am really big on goal setting, as our personnel will tell you. In house, our priority is that we'd love to have more officers," Monroe said. "We've done a reorganization of the police department that really helped out a lot in distributing some responsibilities."
Personal goals have also helped Monroe throughout his life. Monroe originally set his sights on becoming an FBI agent. He decided to stay local instead, setting his goal to his current position once he got involved with UK Police.
The law requires officers to have 40 hours of training yearly, Monroe said. He said during these hours he likes to be productive and better himself.
"I was developing myself," he said. "I took supervision classes, manager classes [and] leadership classes, instead of taking the skills classes."
Though Monroe was not officially police chief until last November, he said his duties as interim police chief for the three years before his promotion got him ready for the role.
"There was really no difference, we made a smooth transition. Basically it was changing a badge and collar pins," Monroe said. "Everything else we already started in the interim roll; we had a head start in doing that."
During his time at UK so far, Monroe developed the first Protestor Device Extraction Team by a university police agency in the country, and he was one of the founding members of the UK Police Special Response Team, according to his biography on UK's website.
Monroe said the hardest part about his job is balancing work with family life.
"I'd say the most difficult part would be having to make some personal sacrifices, due to the long hours and trying to juggle being a father and still being active in my kids' sports," he said.
Monroe has started several programs at UK and is waiting to start others this semester.
One of these programs is "Coffee with the Chief," which according to its website, allows for one-on-one conversation between Monroe and a member of  the community. Its purpose is to promote a stronger relationship between the UKPD and those it serves, according to the website.
Monroe said he would like to see more students use this program.
"It gives students a chance to talk about whatever is on their mind, whether it be a personal issue, or something they are concerned with on campus, or if they just need some guidance with something in their life," he said.
To sign up for "Coffee with the Chief," visit (www.uky.edu/Police/coffee-with-the-chief.html).
Monroe said he enjoys student feedback, and he is creating a survey to be released near the end of the semester so the UKPD can improve.
"I really am trying to break down the historical roadblocks in communication police always have," he said.