Encore: Women's basketball copes with new expectations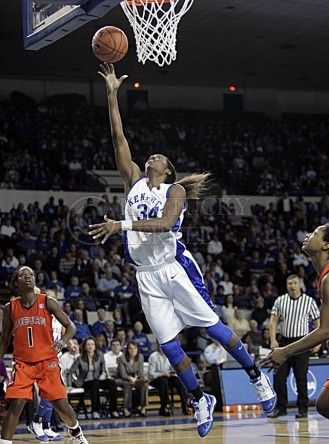 The UK women's basketball team isn't marking its schedule for its annual big games this season. This time around, UK is the team being marked on opponent's schedules.
UK prepares for a new season in an unfamiliar position, a favorite.
"We are not the underdog anymore," sophomore forward Brittany Henderson said. "We just have to come into the season with the mindset that we need to come in everyday and get better."
UK took the country and the Southeastern Conference by storm last season, bringing the basketball program to unseen heights, but the Cats will have to put that success in the past and focus on this year despite a high preseason ranking of No. 9.
"If anybody thinks we have a chance to be good, that's fine with me," UK head coach Matthew Mitchell said. "We certainly want to be a respected program but as it pertains to this team none of that will help us a whole lot."
UK's freshman class, ranked No. 13 in the ESPNU rankings, will help the team grow in depth this season. UK has five incoming freshman, four in the ESPNU top 100.
"I'm impressed, we have a great group of freshman," injured senior point guard Smith said. "They are hard workers and are willing to learn."
To compliment those freshman, UK returns the SEC Player of the Year (Victoria Dunlap), SEC Freshman of the Year (A'dia Mathies) and SEC Coach of the Year (Matthew Mitchell) for the 2010-2011 campaign.
The Cats were picked to finish second in the conference this season, an improvement from being picked 11th last season.
"I think I sat here around a year ago and said that it didn't really matter that we were rated 11th in the preseason," Mitchell said. "My attitude hasn't changed a whole lot on that, I just don't think it matters one bit where we're rated."
UK might be downplaying being a favorite this season but with all the preseason hype, UK doesn't expect teams to take them lightly.
The Cats will be playing one of the hardest schedules in team history, including games vs. No. 6 Duke, No.12 Notre Dame and intrastate rival Louisville in the nonconference. In conference play, UK will face another difficult challenge, facing three SEC teams that rank in the top 25.
"Certainly at my time at UK, the preconference portion is the most challenging," Mitchell said. "We feel like we've always tried to tailor the schedule to the team we believe we can have."
UK's season will have its own new set of challenges, but as seen at Big Blue Madness in October, UK believes it is ready for the bright lights.