Galbraith running for governor as independent: Campaign marks his fifth time running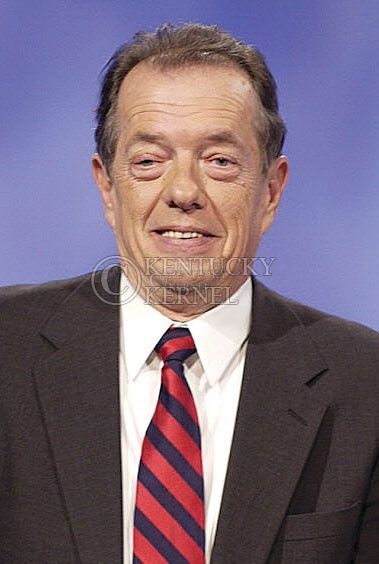 Gatewood Galbraith announced Wednesday he is running for governor for a fifth time.
Galbraith, who graduated from UK as an undergraduate in 1974 and from the UK Colleg of Law in 1977, will run as an independent with Dea Riley.
"We have chosen to run as independent because we do not support one party, but the people," Galbraith said. "We do not want a party. The parties are the problem."
Galbraith said the governor's race concerns college students because it may be the last time they can vote on personal freedoms. Many facets of his platform are geared toward current and potential college students, he said.
Galbraith plans to freeze college tuition and give high school graduates a $5,000 voucher to invest in college or technical school. He said that students will not waste the voucher because it is only available when they enroll in a higher education program or training.
"This money will be spent on books and fees, not beer and pizza," he said.
Another issue Galbraith tackled in his announcement was marijuana. He said he does not support the legalization of the drug, but he would like to see it used for medicinal purposes and even decriminalized in Kentucky. Marijuana should be regulated and taxed, Galbraith said.
He also said he believes drug enforcement should focus on harder drugs that have destroyed lives.
"As a criminal defense attorney, I have seen the destruction that methamphetamine, cocaine and crack cause," Galbraith said. "We need to focus on these drugs."
Galbraith said college students have suffered the most with current drug enforcement and vows to recognize their privacy if elected.
"Students have been preyed upon by the war on drugs," he said. "We must stop the harassment."
This campaign will be different from his past four, Galbraith said. The campaign will operate on a $500,000 budget. Galbraith said he has already raised $100,000.
"Your votes are not for sale, so it doesn't matter how much money we have," he said.
With such a low budget, Galbraith said his campaign will rely on social networking to garner votes.
"We are the Internet and we are the Facebook," he said. "Right there is a tremendous amount of commercials we don't have to buy."
Galbraith has also garnered at least one endorsement.
He is the first independent candidate to be endorsed by the United Mine Workers in 120 years.
To officially get on the ballot, Galbraith needs 5,000 signatures. Galbraith said he believes they will be able to get those signatures.
He also said he believes he has the 425,000 votes needed to finally win the seat.
"Our chances to win are better now than they've ever been," Galbraith said.
UK journalism Professor Al Cross is skeptical of Galbraith's campaign.
"In past elections, he has had difficulty getting out of the single digits (in votes)," Cross said. "In this election, an incumbent is being challenged by a strong candidate. Galbraith may get votes from Tea Party sympathizers."
Cross cited the 1999 governor's election in which Galbraith received 15 percent of the vote. The election was Galbraith's highwater mark, Cross said.
Although skeptical of Galbraith's campaign, Cross said the candidate's presence in the election is healthy.
"Gatewood thinks outside the box and makes people think outside the box," he said. "It's a good thing for him to put himself on the ballot."