Cats hope to improve shooting against Gamecocks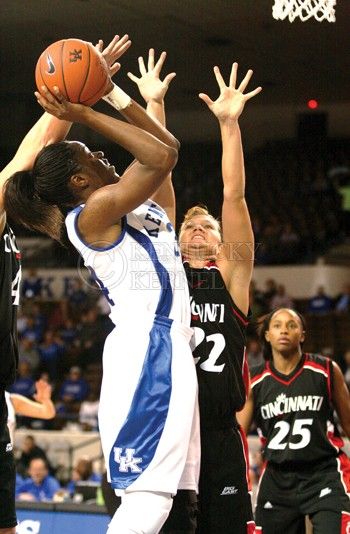 Despite being only two months into the season, the UK women's basketball team already finds itself in a potential must-win game when South Carolina (9-7, 1-2 Southeastern Conference) comes to town Thursday night.
"I think it's a must win, but more for ourselves, as a team and a program," senior forward Victoria Dunlap said. "We know how we are suppose to be playing, we know what we can do and we know we are better than how we are playing."
No.19 UK (11-4, 0-2 SEC) didn't have the start it was looking for in 2011, playing three games in a span of five days, losing all three.
After a heartbreaking loss at then No. 3 Duke, a game in which the Cats held a lead in the final minute, UK was humiliated in its SEC opener at Arkansas. And finally, the Cats comeback effort in Lexington on Sunday against Georgia came up short.
In order for the Cats to pick up their first conference victory, UK will have to pick up their intensity and execution.
"We need to come out with a lot of energy and a lot passion, just because we play at Kentucky," Dunlap said. "In practice we are working on offense execution, defensive execution, the little things we've missed the last couple of games."
This season, the Cats have relied heavily on their three-point shooting, and it's no surprise in their four losses this season they've shot poorly from deep. In the four losses UK has shot 14-61, or 23 percent.
"We're in a rough patch of shooting right now. I don't think we're as bad as we've been the last three game, we have just shot it miserably but I think that'll turn at some point," UK head coach Matthew Mitchell said.
"I don't think it's overstating that the three pointer is the key to our success and we certainly need to shoot it better than we have been."
The Gamecocks have had misfortunes of their own this season. South Carolina is only four days off a two-point loss vs. Florida, and have loss two out of the last three.
The Cats 25-game home winning streak was snapped in the loss to Georgia Sunday, while the Gamecocks haven't won a road game all season. Come Thursday night, one of these teams will be starting a new streak of their own.
Despites South Carolina's vanilla record, Mitchell has been pushing the team in practice because he believes the game against the Gamecocks is very important.
"This is a very important game for us and we aren't off to the start in conference that we wanted to be but we have had the opportunity to play some really good teams this past week," Mitchell said. "Through our struggles, I think we have the opportunity to learn some of the things we need to get better at doing and yesterdays practice was good and we are really going to try to have a good practice today and prepare for a good South Carolina team."
UK senior forward Victoria Dunlap was named to The John R. Wooden Award Midseason Top 20 list.