Talk addresses Christian-Muslim divide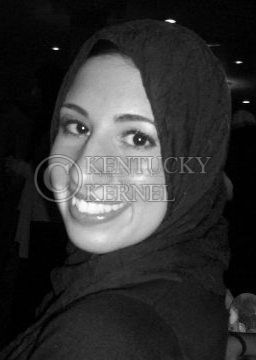 Column by Fatimah Shalash. E-mail [email protected].
This past weekend I attended my first Christian-Muslim Dialogue with a close friend. We were asked to participate in a Q & A and a discussion about our experiences.
There was a wonderful turnout, despite the cold morning. Cassidy Herrington kicked off the dialogue with her presentation on her month-long journey of wearing the veil. As I listened to the familiar story, I also glanced around at the audience and found everyone engaged with faces full of curiosity.
As soon as she finished, hands were raised and she was flooded with questions. What inspired her to wear it? What were the reactions? Would she wear it again?
It was so exciting for me as a hijabi to have people be so open about asking questions. Whenever I had the opportunity, I interjected with my own experiences and thoughts on the subject matter.
An item discussed in the dialogue that I found most interesting was a back-and-forth on suggestions for how to talk to people who belittle or degrade Islam. This sparked a member to talk about how the media was such a large influence in driving people to be so angry and to have hateful towards Muslims. More so, we all have a responsibility to seek our own knowledge and refute these "facts."
Whenever I used to hear the word "angry," I connected it with superficial feelings of anger, lack of control or irrationality.
Meanwhile, the inside is fueled by fear, hurt, disappointed or something equally painful. When you try to argue with an angry person by yelling or spitting back, you both may walk away frustrated. But when you seek to understand what is really underneath it all and get to the heart of the matter, there is a completely different story.
And in the case of those who feel anger or fear towards Muslims (or vice versa, Muslims feeling anger towards Christians), it is integral to find the source of it.
Were they misinformed from the media? What messages are they getting? What are they scared of exactly? What personal reason may they have to want to put blame on the other? These are just some questions to consider.
While I am not excusing pure ignorance, I am attempting to find that hidden layer that drives people to act based on fears rather than common sense or knowledge. This is a much better starting point to discussion.
I believe that as human beings, when something bad occurs, we inherently feel the need to blame someone or something else as a possible source of healing, because sometimes that feels better than having no explanation at all.
All in all, I walked away from the Christian-Muslim Dialogue with a renewed energy. One of the most valuable things I learned is how easily misconceptions can be broken down if one just asks.
Not only that, but as Muslims, it is also our responsibility to provide an atmosphere where people can be comfortable asking. There's something contagious about this atmosphere — my hope is that the group will only grow and that peaceful dialogue will spread outside of that room and into the community.
*CMDs are held on the fourth Saturday of every month at 10 a.m. at Hunter Presbyterian Church off of Rosemont Garden.*