Miller's dunking ability parallels UK's potential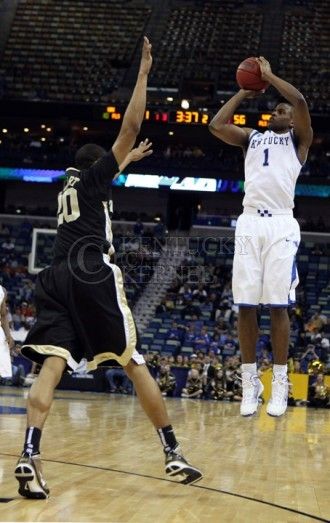 When Darius Miller has a lane in practice, players usually don't jump to contest him. They stay grounded. Maybe even get out of the way entirely.
"We see it all the time. You give him a lane, he can dunk on you," Brandon Knight said. "I know from personal experience, Darius can jump."
The topic had come up innocently enough. Knight was talking about how he gets on Miller to go grab rebounds, because he's the best athlete on the team.
Wait, Darius? Darius Miller is the best athlete on the team?
"I think so," Knight said. "Terrence (Jones) is the longest guy on our team, for sure, but Darius is the most explosive as far as jumping."
Head coach John Calipari was asked who he thought was the best athlete on the team to see if the coach saw the same thing the point guard did.
"Who's the best athlete on our team? Wow," Calipari said. "Probably, if you watch him do some of that stuff, would be Darius."
The statement took some aback because Miller hasn't shown it in games. When he did soar for a dunk against Georgia on Saturday, it seemed more like an anomaly than a common occurrence. Calipari specifically pointed out that play as something Miller needs to do more often.
Miller's semi-hidden talents parallel UK in its entirety; everyone knows that potential is present, but it's yet to be expressed in full.
Calipari said 32 minutes of good play against Georgia was the closest the team has gotten to piecing together a full game. If UK expects to be one of those teams people fear seeing drawn in their bracket region in March, it has to get to a full 40.
"We want to be special," Calipari said. "We want to be one of those teams. Why not us? I'd like it to be us. Would you like it to be us?"
That's partly why Calipari gave his players a sheet on the necessity of sacrificing the individual for the team. But even that gesture elicited a curious response.
"After I did it and we went through the laws of paying the price, I asked how many think I did this because of you specifically?" Calipari said. "Five of them raised their hands."
And so the improvement must continue. Calipari said his ideal image for some of his players.
He said Jones can be the most well-rounded player in the country, Knight can be the best scoring point guard in the country, Miller can be the most complete player in the league (and maybe the best dunker, if Knight's practice tales are true), and Lamb can be the best freshmen scorer in the country.
Calipari said it's about time the players have to empower themselves. The coach has been cajoling enough. He said the window is dwindling for UK to get where he envisions the team by March. UK has "10 games, 10 practices before games — and you're not going to beat them up the day before a game — 5 off days, and 10 practices," Calipari said. "They all said 'there's something wrong,' and were checking their calendars.'"
But it's true. March is fast approaching. Calipari is still pushing his players to get where they need to be.
"A funny thing with our country is all our video games," Calipari said. "(They will say), I got a stepback, watch this move. It's not a video game. You have to be on the court practicing it."