Todd encourages future research: Expresses hopes for UK as a land-grant university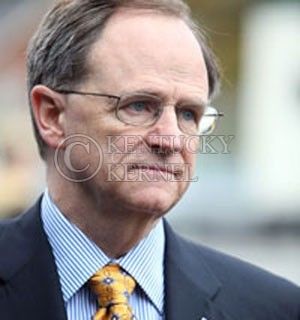 By Drew Teague
The future of education was a main topic for UK President Lee Todd during an event Wednesday evening.
Part of the Martin School of Public Policy & Administration's "Leaders of Public Policy" series, Todd was the first this semester to speak about the school's main topic. He focused on the "past, present and future of public education."
Last November, the series had its first speaker, Kentucky Auditor of Public Accounts Crit Luallen, who spoke on "The Responsibility of Leadership."
William Hoyt, director of the Martin School, thought Todd would be a great speaker in this series because of his outreach.
"The name came up of President Todd," Hoyt said. "I thought it was a pretty good idea … then I thought more about and I thought it was really good. One of the things I take away from (Todd's) presidency is the importance of public policy."
Introduced by Jack Blanton, former vice president at UK and friend of Todd, Blanton explained how Todd fit into the mold of the Martin School.
Blanton brought up points on the land grant university bill that passed through Congress and was signed into law by President Abraham Lincoln, giving way for universities like UK.
Having started two successful companies and being a professor at UK, Todd did not initially apply when the presidential position opened.
"I never envisioned myself to be able to be president of the University of Kentucky," Todd said as he began his talk.
After selling his business to IBM, Todd came back to Lexington, where he spoke at UK.
"I gave a speech for Billy Joe Miles … he wanted me to come down and talk about how UK could become a top research university," Todd said. "I gave 10 ways UK could become a top research university."
Afterward, several people said he should not have given the speech unless he wanted to become the next president.
Todd kept referring to the fact that UK is the land grant institution for the state of Kentucky, and as the school of the state, it must work for the entire state.
"This university has a land grant mission for the state," Todd said. "If we achieved Top 20 status by being the University of Lexington … we'd fail the state."
Todd said he knows the university is known as a basketball school, but many people do not have a "research IQ" when it comes to UK being a research facility.
"Part of the policy issue I was trying to figure out is how do we get people to appreciate what this institution can do?" Todd said. "The point is, we have to make research real."
Todd discussed UK's influence on the state, in the various projects it had been a part of over the years.
"If you look at entrepreneurship in the 19 most tobacco dependant counties, we started teaching entrepreneurship," Todd said. "We've now funded 47 of those initiatives."
Todd's tenure as the 11th president of UK ends June 30, 2011. He will have served as president for 10 years.