What UK wants in new president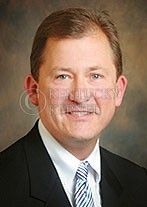 Many people on campus have questions about who will be UK's new president.
While Dr. Britt Brockman, chairman of the Board of Trustees, could not answer the question of who will be the next president, he can answer questions of what qualities the university is looking for in its new president.
Brockman spoke about the presidential search at a Lexington Forum meeting on Thursday morning.
Jay Blanton, of UK Public Relations, said Brockman's position as chairman of the Board is important.
"(Brockman) has a critically important vantage point from which to observe one of the more crucial leadership changes that has taken place not only in our community, but in our state," Blanton said, "the search for UK's 12th president."
Brockman said UK wants someone who will take making UK a Top 20 research university seriously.
"In our search for UK's 12th president, we are looking for someone who is not afraid of an ambitious goal, but rather is emboldened by it," Brockman said. "We are looking for someone who will embrace that goal and build on the strong foundation we have to move us forward."
He said the new president must be able to work with legislators of the state.
"In addition to vision and energy, our next president also must be adept at politics," Brockman said.
Though state support has declined in terms as percentage of UK's overall budget in recent years, money from the state accounts for nearly half of UK's general operating budget even, Brockman said.
He said he is hopeful a new bonding bill will pass in the Kentucky legislature that would give UK more flexibility for planning new developments, and he said money from the state will help the university continue to grow.
Brockman said UK's new president must understand the important role sports play at UK.
"If they don't understand (sports), then I think they're probably not the best fit," he said.
Brockman said the names in presidential search will remain confidential at least til April. He said the final candidate will be announced in May.
"We need, we expect, we deserve a leader with a vision, the intellect, the management skills and the energy to drive … this university forward to Top 20," Brockman said.