Knight does it again at the end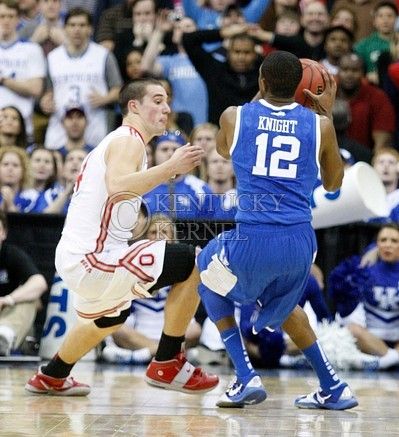 His teammates knew exactly what was going to happen on their final possession.
"We knew what we were going to do," said Darius Miller. "We wanted to get the ball in Brandon (Knight's) hands. He's done it before."
He did it just two games before that, delivering the winning shot in UK's first-round victory over Princeton. His number was called again with UK tied against the No. 1 team in the country.
"That's who we want the ball to be in his hands," said Terrence Jones.
Guarding him was Aaron Craft, who had pestered him with by keeping close proximity to Knight, forcing him into six turnovers. Josh Harrellson came to set a screen to the left.
"We set a middle ball screen for him to get him open a little bit, so he could create for him or someone else," Miller said.
Knight turned down the screen because Craft was in position to go under it, so Knight drove right, trying to get to the rim. Craft cut him off. Knight rose and shot.
"It felt good," Knight said. "I was just praying that it went in."
"It had a lot of arc, but I could tell it was right on line," said Jones.
DeAndre Liggins was more certain.
"It's going in," said Liggins.