Defense gets it done for UK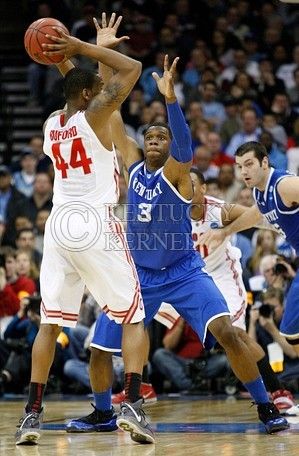 Days before the Sweet 16 game between UK and Ohio State was played, Thad Matta had this to say:
"Sometimes when you have a high-profile offense, your defense gets overlooked."
On Friday night, UK's defense was the reason it beat Ohio State 62-60 to advance to the Elite Eight. Shooting was supposed to be the Buckeyes' greatest strength; UK held Ohio State to 32.8 percent shooting, its second-lowest number of the year.
"Some of the shots we missed are ones we've been making all year," said Ohio State's three-point specialist Jon Diebler, who hit half of his shots and scored 15 points.
UK let Josh Harrellson guard Jared Sullinger one-on-one for most of the game, allowing the rest of the team to stay with the perimeter players and contest the majority of Ohio State's shots. Only one three-point attempt was wide open — a Diebler make from the corner. Harrellson said the game plan was to make Ohio State beat them from inside the arc.
Meanwhile, DeAndre Liggins was assigned to Ohio State point guard Aaron Craft. He doesn't score much, averaging a little over seven points per game (in fact, he doesn't even start), but his ability to create for the other four players on the court made shutting him down a priority.
"There are certain players on teams that you got to go at to change the direction of the game," John Calipari said. Craft scored zero points, and only dished two assists (he had 15 in Ohio State's previous game against George Mason.)
"Those veterans did what they had to do to win this game, defensively, on Craft, on Sullinger," Calipari said.