Kanter to throw out first pitch Friday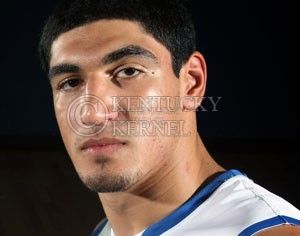 After a long wait through the cold winter months, Big Blue Nation will finally get its chance to see Enes Kanter in action for UK — but not where the fans wanted to see him.
Kanter will be throwing out the first pitch at the UK baseball team's series opener with Auburn on Friday, April 8, at Cliff Hagan Stadium, according to a UK release.
Kanter's first pitch is scheduled for 6:30 p.m., the release stated, with the game against Auburn to follow immediately after.
Kanter was the No. 1 center according to Scout.com, and was part of UK's then-second-consecutive No. 1 recruiting class. He was then found permanently ineligible by the NCAA for money he received playing professional basketball in his native Turkey, and filled a role as an undergraduate student-assistant coach for head coach John Calipari's squad. He never played in a game for the UK basketball team.