This makes two life-altering decisions Jones has stuggled with making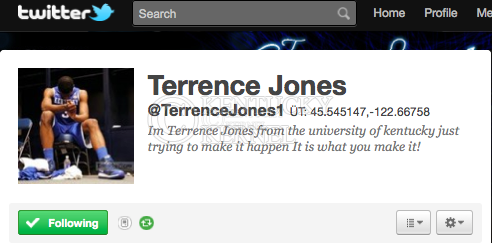 It was about a year ago when, making the biggest choice of his life up to that point, Terrence Jones decided to spontaneously select a hat to indicate his college choice. He picked up the hometown Washington cap, before saying that it didn't really mean anything because "people decommit all the time." He wound up choosing UK, signing his scholarship papers on the last day of the signing period, making him the last elite recruit to formally decide.
This time, Jones won't be able to recant a commitment or rectify a mistake. This May 8 deadline is completely binding. You're in or you're out, and that is it. It's a decision saturated in finality, and those are precisely the kinds of decisions Jones seems to struggle with making. (And understandably so. Even though I knew I wanted to come to UK, I waited until the last possible day to formally and officially commit to it. I'm terrified of life-altering decisions from which there is no turning back. Jones strikes me as being this way as well, at least partially.) His mom told the Herald-Leader earlier this week he would take all the time he had available to him to make his decision.
The decision is a suffocating one. It's one that makes you fear being wrong. He could go pro now, and enjoy being a likely top-15 pick. He could come back, continue to improve, find a way to become both a leader and a fitting part in next year's loaded team, and hope it earns him top-five status in the 2012 draft. He certainly seems to like being part of a college team; he has tweeted out pictures of himself, Knight and Stacey Poole with captions of "brothers" and "family." Throughout the season, he referred to his teammates as brothers. Only one of these situations can occur, and that's the problem.
I hate to conjecture on someone I don't actually know, but Jones seems genuinely conflicted about his decision. Maybe not in the conflicted sense that he has no idea what decision he actually wants to make. I'm sure, deep down, he knows — or at least is leaning one way enough — whether he will be an amateur or a professional next year. But he definitely seems conflicted about committing.
It's not because he doesn't think enough about these things. It's because he thinks too much. His responses all year to questions from the media were measured, almost as if he played them out in his mind before saying them aloud. His retweets seem to indicate his struggle.
"I know you're minutes away from your decision, just encouraging you to pray before you make your decision," says one.
"I pray God will give you confidence, assurance and peace about your decision," says a second.
If he is hesitant, it's not because he doesn't know. He's had a couple weeks now to mull this over. Calipari is one of the most adept coaches at gathering information to inform his players — indeed, Calipari tweeted earlier Friday that Jones now had enough information "to make an informed decision." He will talk it over with his family, said Calipari's tweet — implying he already has his mind made up, but maybe not totally.
So now UK fans get to set personal records for number of times they hit the refresh button. Jones had 27,776 followers as of 4:29 p.m. Friday. We'll see how much that grows by as people tune in to get the news firsthand. The most exciting two minutes in sports on Saturday may not be the Derby anymore for UK fans.
The ultimate question, of course, is what Jones will actually do. I really don't know. As recently as Thursday he said he was 50-50, and although Brandon Knight said he was at the same percentages less than a week before announcing he was going pro, Jones' and Knight's definitions of "50-50" seem entirely different. While choosing to announce on Twitter would appear to imply he would be coming back — after all, who would break a fan base's heart via social media? — those rules don't seem to apply to Jones. Again, this is not a bad thing. This just seems to be the way he is.
Earlier in the year, someone close to Jones brought up the topic of playing in the NBA to him. Not whether he wanted to be one-and-done, or whether he was already thinking about leaving. Just getting his thoughts on it. Jones said he didn't really think about it. And early Friday, before Twitter gave us the news that Saturday was the day, word from UK was that Jones hadn't decided yet.
I'm not sure he has even now.