Student finds parallels between weather, emotions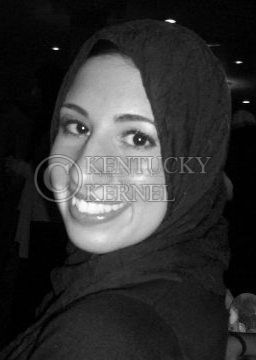 By Fatimah Shalash
Sometimes the heavens open and the sky pours. Not all day, but in shifts. Sometimes it rains lightly, a soft pattering against the window, whispering to you that a rainbow would soon grace us around you in comfort.
As the day gives way into night, the skies clear and the temperatures cool to a more pleasant summer night. I began to think about the seasons of weather, how there was predictability in the unpredictable. We know that for every week that it rains every day, there will be a week where the sun will shine through the clouds, with not a raindrop in sight.
We know that, even in Kentucky when the lines between the seasons shift and blur, the beauty of fall is around the corner. Despite the inevitable outpouring of sunshine and lightness of summer, I am delighted by the prospect of autumn: bringer of new scarves, pumpkin in everything, stepping on crunchy leaves, and a slight, and cool, crisp in the air.
It is a time for school-supply shopping, registering for classes and making goals to actually keep track of paperwork this time around. Whether you're an incoming freshman or outgoing senior, the excitement and anticipation runs an electric current through campus and makes it feel alive. Things feel possible and within reach.
I find the rhythmic pattern of the weather and seasons (at times measured in semesters) comforting.  During a storm, I feet akin to the rain; as many times as it changes its pace, my emotions do the same. As I move through my own seemingly unpredictable pattern of grief, of living life and of loving, I realize that my emotions have more in common with the weather than I ever would have thought. In them lies predictability—as there will always be sun and rain, I will always feel both happiness and sadness. The catch is, how much of each, when and where, cannot always be known until the night before, or the day of, or in hindsight. And in that, lies a loss of control. On the other hand, acceptance of this makes the day to day easier to manage.
I've always found a beauty in thunderstorms. But it's after, as the clouds roll away and reveal that all this time a clear blue sky was patiently waiting behind it, that I gain even more appreciation. Because it reminds me that if I let myself experience a "storm," I will not be stuck there. I will, whether it is a matter of minutes, hours, or days, return to my blue sky.