Professor named one of 'the most creative teachers in the South'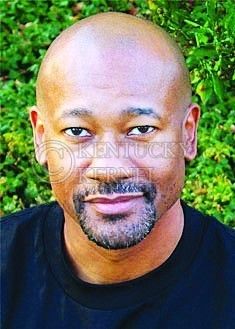 By Kellie Oates
Frank X. Walker has many titles — renowned Kentucky writer, an associate professor in the department of English, the new director of the African American & Africana Studies Program, a comic book aficionado, and as of late, one of the most creative teachers in the South.
The Oxford American: "The Southern magazine of good writing," chose Walker to be on the list of "The most creative teachers in the South" for the fall issue.
Walker, a UK graduate and co-founder of the Affrilachian Poets, said he incorporates unique teaching tools in the classroom.
"I believe I was selected because all the really creative teachers were busy enjoying their summer breaks and I was the one who answered the phone," Walker said in an email to the Kernel. "Then again it could have been some of the quirky things that are integrated into my classrooms, like putt-putt golf on the first day while we're all getting to know each other. I also allow my students to interview me for the job as their teacher on the first day. After they 'hire' me, I talk about the syllabus as a 'contract' between us, then I give them the keys to the Prius and let them drive all the way to finals week with me as their GPS, so to speak."
Walker said he is driven by those around him.
"The most influential and respected people in my life, even if I didn't like them, have almost always been at the front of a classroom," Walker said. "I eventually accepted the fact that I am uniquely wired to be a teacher. And now I love teaching and think of myself as a teaching artist, not just an artist/writer who teaches."
Walker said one of his biggest influences is fiction writer and UK professor, Gurney Norman.
"(Norman's) mentorship has always extended beyond the classroom," Walker said. "He did more than anybody to expand my world view and teach me how to see the world in a way that complimented everything my mother tried to teach me."
Walker's colleagues had positive things to say about him in return. Marion Rust, interim chair of the UK English department, expressed why she believed Walker deserved this honor.
"Frank amazes me continuously, from his prize-winning poetry to his innovative teaching, to his advocacy on behalf of people all over Kentucky," Rust said. "This summer, he even started a program to provide bikes to kids in Lexington so that our new Legacy Trail could become available to all. Where does he find the time?"
Walker expressed that he is confident in his subject areas and passionate about teaching.
"I don't know if there is one single message that I try to communicate when teaching or writing or speaking," he said. "But there are things that are important to me that continue to resurface in my work and that are extensions of my life: family, history, identity, place and social justice."
Walker has had many postitive contributions to the university, Norman said.
"He brings a wealth of life experience and teaching experience to his work at UK," he said. "So it is no surprise to me that Oxford American has noticed him and granted him this honor."
Walker said he has made a commitment to the identification and development of the next generation of young writers and artists.
"I don't place any restrictions on what (my students) walk out of the classroom thinking, as long as they walk out of the classroom thinking," he said.