John Calipari appears on Dan Patrick Show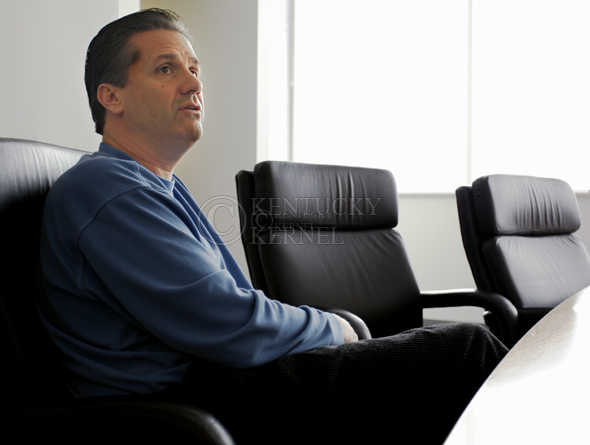 John Calipari went on the Dan Patrick Show Friday to talk a little about his current team and a lot about big-picture items, such as the one-and-done system and his superconference plan. You can listen to the full 11 minutes here.
Besides those, here's some interesting notes:
Calipari set the bar for his tenure at UK at 10 years. "I don't want to become an old, bitter man. Two, I want to live a life after coaching," Calipari said. When asked about plans past those 10 years, he said, "I'll be done when I'm done at Kentucky."
Calipari was asked how many wins he thought he had. "Well, I know it's not 500," Calipari said, laughing, and then talked about his two vacated seasons. "We played those games. Everybody knows those games were played. You can't say those were fictitious. Come on."
Patrick asked Calipari how many players on his team thought they were good enough to be in the NBA right now. Calipari pointed to Michael Kidd-Gilchrist as an example of not thinking about that. "He doesn't want to hear anything about it," Calipari said. "He wants to be a good college player. I don't think Anthony Davis is reading into all that stuff. That's why we're still hanging around being a pretty good team. They want to be good players this year. They know we're not a good team right now. We're talented, but our offense is not where it needs to be. To be special, we know we're going to have to be good on offense."
Calipari on which is more valuable, guards or big men: "I think as a coach, especially in college, even more so than in the NBA, your guard play is what wins."
Calipari asked whether that really was a swimsuit model who stopped by Patrick's office to help decorate a Christmas tree recently. "Every day's a Super Bowl here, coach," Patrick said.
Again, listen to the full interview here.
or email him at [email protected]