Indiana loss serves as 'wake-up' call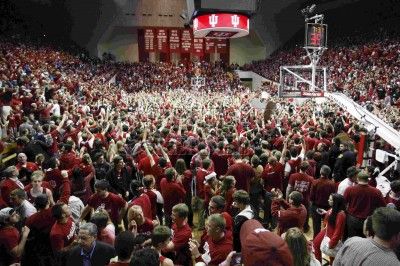 Maybe if Christian Watford's game-winning 3-pointer didn't fall, UK doesn't confront its weaknesses as much as it is now.
"I'll be honest with you, if we had won, I probably would have stuck my head in the sand, and not said 'We're not in good enough condition, we're not tough enough, let's go," head coach John Calipari said. "I would have said, 'hey, let's keep this ball rolling, we have three or four (games) before Christmas.' So this was a wake-up for me."
Calipari said on his radio show Monday that practices leading up to the game against the Hoosiers weren't tough enough — so he fixed that this week.
And that final shot has led the team to work on situational plays.
"Every time they don't listen, I stop practice (and remind them of that play)," Calipari said. "Just to make a point of, you're not listening to me."
Calipari did note, though, that he hadn't taught his team late-game situations before that game. So, with a young team, can you expect anything different when they come out of a timeout and do exactly the opposite of what you told them to do?
He also noted how North Carolina was in danger of going the same way — a missed free throw late, a last-second shot attempt. The only difference? Somebody made a play.
"At the end of the day, you can't predict — even with three seconds, five seconds — what's going to happen," Calipari said. "You have to have a player make a play, like Anthony (Davis) did (against North Carolina). Somebody's got to go make a play."
Someone who didn't make many of them against Indiana was Terrence Jones, who scored four points, grabbed one rebound and committed six turnovers. Both Twany Beckham and Anthony Davis said he's come out with a renewed vigor after hearing the criticism.
"He knows. Can't do that again. He's a good kid who had a bad game, for whatever reason," Calipari said. "He screwed it up, now he'll come back and be fine."
Defensive strategy
UK isn't that great at defending threes. UK is really great at defending twos.
So it's a simple concept John Calipari is teaching his players: make opponents drive on you. Don't give up open shots.
"All I talk about is, make them drivers, make them drive into their defense. Don't let them play HORSE. I know they can beat us playing HORSE and shooting free throws. We're not fouling, we're not letting them play HORSE. Make them play basketball."
But it's tougher to implement. Players can be hesitant to close out all the way if it means a risk of getting beat off the dribble. But given how well UK defends the interior — the Cats are forcing opponents into 33.7 percent shooting on two-pointers, second-best in the nation, and have a nation-best 24.5 block percentage — it's a sound defensive strategy, especially given that 3-pointers can be a great equalizer for teams that are facing a talent deficit.
Which is something almost everyone playing UK faces.
Wiltjer needs to earn more minutes
Calipari wants Kyle Wiltjer to play more. He really does.
But Wiltjer just isn't performing how he needs to. He played less than 10 minutes against Kansas, North Carolina and Indiana.
"We need to get Kyle more minutes, but he gave up a three at a critical time (against Indiana)," Calipari said. "We're doing things in practice now where you have to come up with balls, and if he doesn't, in those situations I stop and say, that's why it's hard for me to play you."
Wiltjer's biggest weakness is on defense and rebounding, but Calipari noted his offense can improve, too.
"I told him, even if your minutes are short, you got to do what you do offensively," Calipari said. "Just play. I think he's holding back a little bit."
or email him at [email protected]