'The Apprentice' winner talks 21st century success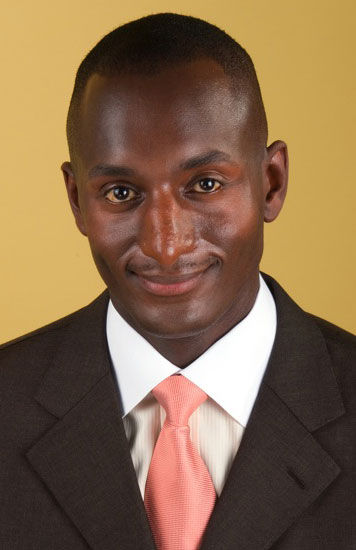 By Rachel Sarnovsky
As the guest speaker for the College of Engineering's E-Day, Randal Pinkett captivated the audience with his humor and vast knowledge about how to be competitive in the 21st century on Friday, in front of a record 420-person audience.
Pinkett, winner of the fourth season of NBC's "The Apprentice," is an engineer and entrepreneur with a Bachelor of Science in electrical engineering, a Master of Science in computer science and electrical engineering, an MBA and a Doctor of Philosophy.
"He was very lively and engaging, and I think he's a good role model for all the engineering students," said Toni Kendrick, a mining engineering sophomore.
The premise of Pinkett's speech was how the economy, technology and diversity, along with three essential mindsets, all contribute to the success of competing in the 21st century.
"We are living in an increasingly technological society. Our world is radically different today than it was just a few years ago," Pinkett said. "With increasing frequency we will all be asked to do more with less. Those of you who can figure out how to do that will be competitive in the 21st century. Those who cannot will continue to fall behind."
Pinkett said three mindsets are essential to success: the entrepreneur, innovator and communicator mindset.
The entrepreneur's mindset relates to the economy, innovator's mindset coincides with technology and the communicator's mindset relates to embracing diversity.
"Now more than ever, before we are all being challenged to work more with people who are not like us, who don't look like us, who don't come from the places that we come from, which means those who are able to comfortably and effectively work and communicate with people not like themselves will be competitive," Pinkett said.
Allison Peters, a chemical engineering sophomore, said Pinkett's advice could be applied to individual minds, as well as organizations within the college of engineering.
"On a personal level, communication skills links the technical side of engineers to the non-industrial side, and it's a skill that we all need," Peters said.
Being familiar with the increasing advances in technology is important to prosper in our society, Pinkett said.
"My family didn't even own a computer until I was like 10, so I'm kind of behind on technology already," said Jacob Ruzicka, a chemical engineer senior. "From hearing him today, I need to start getting ahead because technology is going to be the backbone of our country and the world definitely in the future, if it not already is."
Pinkett ended by saying commitment is key. It is important to have a personal commitment to embracing principles such as passion, leadership, stepping outside of your comfort zone, honing communication skills with diverse audiences and taking risks, while accepting failure as a part of that process.
"We are not meant to see through each other, but to see each other through," Pinkett said shortly before being honored with a standing ovation.