Provost reflects on time at UK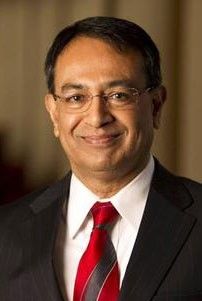 Provost Kumble Subbaswamy may be saying farewell to UK, but the impact he's had on the university will remain for years to come.
"Dr. Swamy," as he is known around campus, spent time studying at Indiana University and University of California, before arriving in Lexington in 1978.
"I had a couple of opportunities, and UK was the best in terms of professional prospects," Subbaswamy said. "It was a university with young, enthusiastic colleagues and high ambition."
Subbaswamy left UK for a brief period starting in 1997, but was recruited by President Lee Todd to become the university's second Provost in 2006.
"I worked for two other universities, but then Dr. Todd asked me if I would join his team as the provost and I jumped at the opportunity," Subbaswamy said.
During his 24-year tenure, Subbaswamy has had an influence on students, faculty and staff alike.
"As provost, I would say that the first thing I'm really proud of is focusing a great deal on student success, which encompasses everything from recruitment strategy, how we transition students from high school to a university, setting general education curriculum; a range of matters," Subbaswamy said. "We admit well-prepared students and do our best to make sure that every student we admit succeeds."
In addition, Subbaswamy said that he has helped contribute to research efforts and diversity on campus.
Over the years, Subbaswamy has impressed faculty and staff with his work ethic.
Mike Reid served on the search committee for the provost and recommended Subbaswamy.
Since, the two have worked together in various leadership positions.
"My experience with Swamy is that he has a brilliant mind and a very incisive, thoughtful approach to problems," Reid said. "He's deeply committed to academic excellence … I'm especially appreciative for his loyalty and commitment to the university."
Journalism professor Buck Ryan, who is involved with UK's Constitution Day, enjoys Subbaswamy's insights.
"Swamy was never better than when he spoke from the heart about the importance of the First Amendment," Ryan said.
Although Subbaswamy looks forward to advancing education and research at University of Massachusetts Amherst, he said he will miss the spirit of the Big Blue Nation and the friends he's made along his journey.
"Of course I'll be joining another community in Massachusetts, but this is one that I have a lot of affection for," Subbaswamy said.
Subbaswamy's colleagues are as fond of him as he is of them.
"I've really enjoyed interacting with Swamy. I still go to him for advice and opinion on academic matters," Reid said. "I'm looking forward to a long and lasting friendship."