Hoops looks to boost SEC standing with road win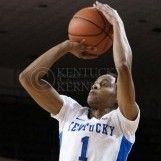 By Boyd Hayes | @KernelHayes
No. 10 UK Hoops (23-4, 11-3 SEC) is knotted up in a three-way tie for second place in the SEC.
Sitting atop the dogpile is No. 8 Tennessee, in lone possession of first place. With the regular season winding down, the Cats' final game of the regular season against the Lady Vols in Memorial Coliseum looms.
Before tackling the top dog, however, the Cats must face the Rebels of Ole Miss residing at the bottom of the SEC.
"This is an important game for us as this is our last conference game on the road and we need to try to bounce back from our disappointment of Sunday and losing that game," UK head coach Matthew Mitchell said, referencing the weekend loss to LSU.
Dating back to the 1970s, the Lady Rebels (9-18, 2-12 SEC) have had the upper hand over UK more than a few times. Leading the overall series, 20-13, the Rebels have an 11-5 advantage in the series in Oxford, Miss. The Cats, however, have beaten Ole Miss three straight, including an 82-41 romping in Lexington last season.
Visiting Oxford on Ole Miss' Senior Night, it'll be UK senior guard A'dia Mathies leading the Cats into action.
Mathies averages 18.2 points per game against the SEC, leading the Cats and earning second in the conference.
Also impactful of late for the Cats has been sophomore guard Bria Goss coming off the bench. Since Mitchell changed the starting lineup to include junior guard Kastine Evans in place of Goss, Goss has averaged 11.4 points per game.
Holding down the low post for UK is junior forward Samarie Walker, who averages 9.1 points and 9.2 rebounds per game against the SEC.
She has also compiled 54 steals and 44 blocks, with eight double-doubles to her name on the season.
Sophomore forward Tia Faleru leads the Lady Rebels in scoring, with 11.7 points per game, followed by junior guards Valencia McFarland and Diara Moore, with 11.4 and 10.6 points per game, respectively.
Leading Ole Miss in rebounding is senior forward Courtney Marbra, with 5.4 per game. Marbra will be one of two Ole Miss seniors honored before the game, along with Maggie McFerrin.
"It's their last home game so that's always a night where people are really motivated to do well," Mitchell said. "So we will have a big test ahead of us and play well and I know the team wants to bounce back and get a victory tomorrow night."
The game tips at 8 p.m. Thursday in Tad Smith Coliseum.