Architect, constructor hired for Rupp Arena renovation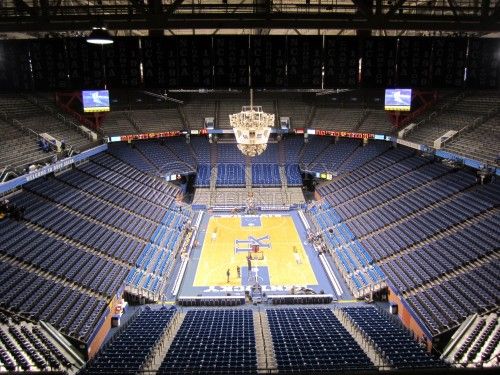 By Tom Hurley | @TomHurley
Plans for the renovation of Rupp Arena took a step forward on Wednesday when a Seattle based architectural firm were announced as the designers of the new-look facility.
NBBJ were announced as being in charge of the project after the Lexington Center Corporation Board of Directors met on Wednesday morning.
Hunt Construction Group Inc., the firm that built the then-new Rupp Arena in the 1970's, will be in charge of construction on the project.
The redevelopment of the 47-year-old arena is scheduled to last for two years, during which time it will remain open for events, including college basketball games.
Construction is set to begin in fall 2014 with the redevelopment being complete in stages in order to allow UK men's basketball games to be hosted during the redevelopment.
The arena's 23,500 capacity for basketball games is not due to be lowered by the renovations.
Original plans for the project include a new video board hanging over mid-court, total renovation of the seating bowl to fit chair-back seats throughout the arena, expanded concourses, and the addition of premium suites seats in a new hospitality level.
Redeveloping aging arenas is not new to NBBJ. The company led a $136 million renovation of Edwin W. Pauley Pavilion on the campus of the University of California, Los Angeles.
Pauley Pavilion reopened in 2012 with an enlarged capacity of 13,800 — an increase of almost 1,000 seats from the original capacity for basketball games.
NBBJ have also played a part in the design of the Staples Center in Los Angeles and the Cincinnati Bengals' Paul Brown Stadium.
Hunt constructed Lucas Oil Stadium in Indianapolis and the St. Louis Cardinals' most recent version of Busch Stadium.
In addition to the revamp of Rupp Arena, the Lexington Convention Center will also see major construction work during the project, including doubling the amount of exhibition space in the facility.
Final designs and financial estimates fro the project are to be finalized in Fall 2013.