Color Your Kitchen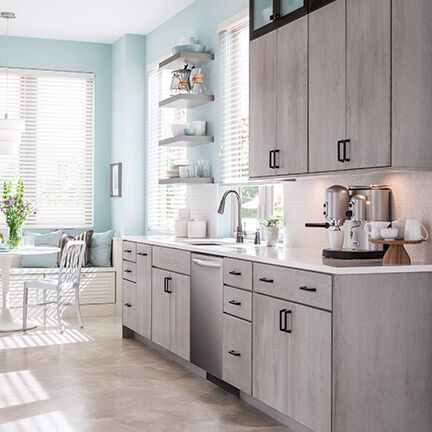 (Family Features) While the kitchen is often the busiest room in the house, it is also one of the most important rooms when it comes to renovations. An upgraded, vibrant kitchen that incorporates elements of personal style can make the room more attrac­tive while increasing the home's overall value.
An easy way to give your kitchen an instant upgrade is by adding color in places that complement the decor of the room. Elements such as cabinetry, sinks and appliances are good places to start the facelift process while also adding more functionality.
Consider cabinets
Not only can new cabinets provide the benefit of more storage space, they also present an opportunity to incorporate some colorful style into the kitchen. Make your splash with vibrant color on the cabinets themselves, or pair softer hues with muted contrasts to create an eye-pleasing backdrop for bold color appliances and vibrant accents and accessories. If you opt for a more traditional finish such as cherry, black, walnut, white or maple, you can still add visual interest to your kitchen design by contrasting the upper and lower cabinetry or creating a standout island in a different tone. Simply updating the hardware with a colorful twist can be an inexpensive alternative for adding color as well.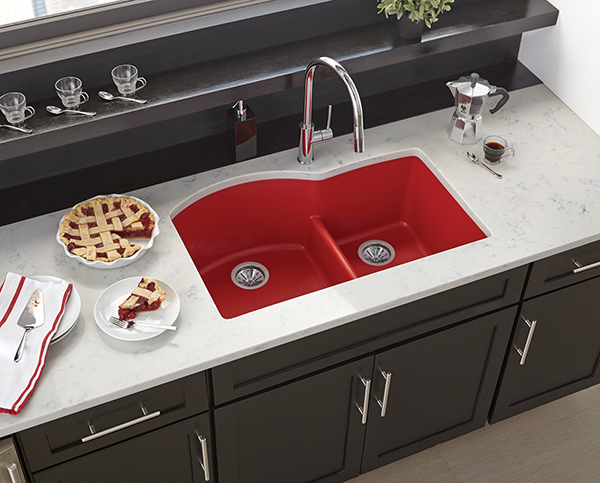 Think about sinks
Once overlooked as an option for introducing style in the kitchen, today's kitchen sinks accommodate a wide range of designs and preferences. Both function and aesthetics – including unexpected, vibrant color – are important when replacing your sink. An option such as the Elkay Quartz Luxe collection comes in six bold colors and three mount styles with a variety of bowl options and add-on accessories. The collection combines the highest-quality quartz with a high-performance, UV-stable acrylic resin for a durable sink that is easy to maintain, fade-resistant, vibrant in color and stain- and odor-resistant.
For added convenience, Elkay's unique quartz finishing process delivers a satin-smooth, non-porous surface that prevents foods, liquids and bacteria from sticking to it. Because natural quartz is four times harder than granite, it has the ability to resist scratches, smudges, heavy impact and heat up to 535° F, making it both a practical and attractive option. Explore a variety of models that can help make your renovation complete at elkay.com/quartz.
Add stylish appliances
A complete set of matching appliances makes for a modern and inviting ap­­pear­ance. Popular finish options include smudge-proof stainless steel, chrome, black or white, but if you're really looking to brighten the room, some lines are available in colors such as red, blue, orange or green. Although the visual impact is important, remember to keep practical considerations in mind and look for the features – such as side-by-side versus drawered refrigerators, for example – that work best for your space and lifestyle.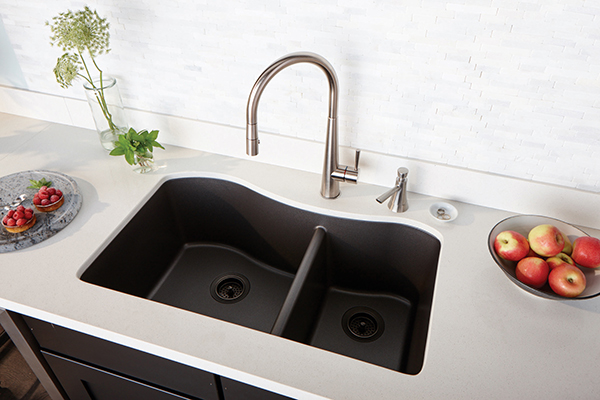 Find Your Ideal Sink
A successful kitchen renovation captures every element of the space – including the kitchen sink. Select the right type, features and material to suit your family's needs with four easy steps from the experts at Elkay:
Choose your sink material and color. Color, texture and sheen all provide ways for you to express your style. Stainless steel, copper, fine fireclay and colored quartz all offer unique benefits and aesthetics.
Choose your sink type. Whether top mount with a finished rim, undermount to create a seamless appearance, universal mount which can be installed either above or below your countertop or an exposed apron front mount that extends out slightly further than the cabinet below it, your new sink needs to be in sync with your chosen countertop material. Whether or not you plan to replace your countertops will also affect your options.
Choose your sink features. Select the number of bowls based on how you work. Single bowls can accommodate larger cooking sheets while double bowls allow for a quick wash/rinse sequence. Depth is an important consideration, too.
Choose your sink size and accessories. The size of your new sink is dependent upon the size of the cabinet it is installed in. Sink-base cabinets can be created specially to fit an installed sink. Also, look for accessories that work with your sink to save space and add convenience in the kitchen. Options include cutting boards, rinsing baskets, colanders, bottom grids and drains, among others.