Protein-Powered Morning Meals
(Family Features) With all the hustle and bustle of typical mornings, it can be easy to fall into a rut when it comes to serving your family balanced, nutritional breakfasts. However, building the "most important meal of the day" around delicious proteins – like sausage and bacon – can provide a scrumptious start and help reduce hunger and snack cravings.
When you have flavorful, high-quality and easy-to-make ingredients on-hand like those from Farmer John, including pork sausage, sausage links and thick-cut bacon, great-tasting breakfast recipes like Sausage and Egg Breakfast Tacos and Bacon Tater Tot Cast-Iron Casserole can be made at the drop of a hat.
In addition to offering tasty protein options for any meal of the day, Farmer John is also on a mission to give back. As a member of the Southern California community for more than 90 years, it is committed to being a good neighbor, which is why it launched year two of the California Commitment Tour, an initiative to help support California residents and the neighborhoods where they live. By delivering free grab-and-go lunches to local heroes and essential businesses, such as health care facilities, youth empowerment centers, grocery retailers and postal establishments, and donating much-needed protein to local food banks, the tour served as a way to feed, celebrate and support the area.
For more delicious breakfast recipes, visit FarmerJohn.com.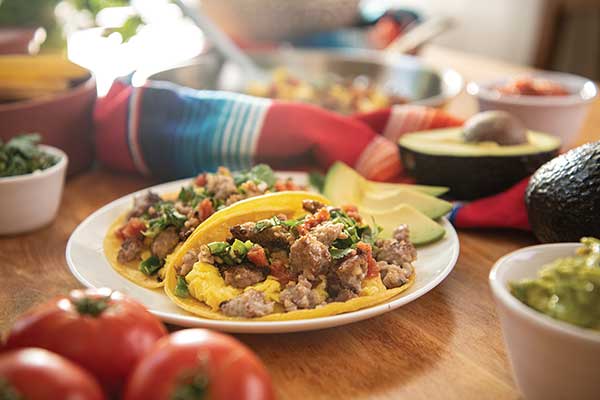 Sausage and Egg Breakfast Tacos
Prep time: 20 minutes
Cook time: 10 minutes
Servings: 6
Chimichurri:
1 bunch scallions, thinly sliced
2 jalapenos, diced small
1 bunch cilantro, roughly chopped
2 lemons, juice only
1/2 cup seasoned vinegar
1 tablespoon sugar
1 tablespoon salt
1 teaspoon crushed red pepper flakes
2 packs Farmer John Classic Pork Sausage, browned
1 dozen eggs
1 tablespoon salt
1 cup half-and-half
olive oil
12 yellow corn tortillas
16 ounces salsa roja (optional)
To make chimichurri: In mixing bowl, combine scallions, jalapenos and cilantro with lemon juice, vinegar, sugar, salt and red pepper flakes. Set aside until ready to use.
In hot skillet, fry sausage until cooked through and golden brown.
Scramble eggs; add salt and half-and-half.
In hot pan over medium heat, drizzle olive oil. Add enough eggs to cover pan. Let eggs cook, using spatula to move them around until cooked thoroughly and scrambled. Set aside and repeat with remaining eggs.
On hot griddle or pan, heat corn tortillas until warm.
On separate plates, place two tortillas and divide eggs to fill 12 tacos. Add sausage, chimichurri and salsa, if desired.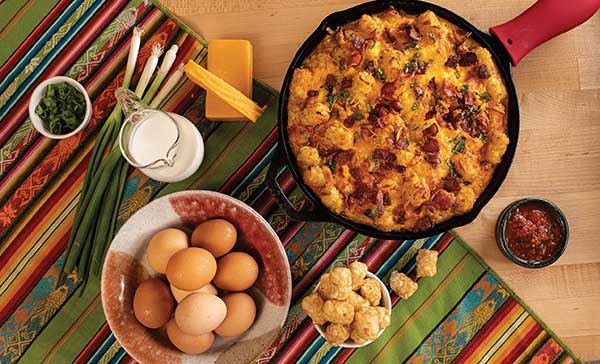 Bacon Tater Tot Cast-Iron Casserole
Prep time: 5 minutes
Cook time: 40 minutes
Servings: 6
16 ounces Farmer John Classic Bacon, diced
6 eggs
1 cup whole milk or half-and-half
1 teaspoon salt
1 bag (32 ounces) frozen tater tots
3 cups cheddar jack cheese, shredded
1 jar (12 ounces) hot or regular tomato salsa
1 bunch scallions, thinly sliced
Preheat oven to 425 F.
In cast-iron pan over medium heat, cook bacon 5-8 minutes. Place on plate lined with paper towels. Reserve grease.
Scramble eggs with milk, salt and reserved bacon drippings until thoroughly mixed.
Layer 1/3 of tater tots on bottom of cast-iron pan; add 1/3 of cooked bacon, 1 cup cheese and 4 ounces salsa; repeat twice to use remaining bacon, cheese and salsa. Pour scrambled eggs on top.
Bake 25-30 minutes. Halfway through cooking, add scallions and rotate pan.
Let cool 5 minutes.