5 tips on money management in times of historic inflation
(BPT) – Every time you go grocery shopping or fill up on gas you notice rising prices, and it may have you worried. Even if the current inflation is short-lived, it takes its toll, chipping away at your income and savings. While that's frustrating when you're careful with your budget, for many Americans living paycheck to paycheck, rising costs are extremely challenging. When you need basic necessities for your family, you don't have much choice but to eat that extra cost.
Fortunately, there are steps you can take to help offset some rising costs — and handle your money smarter. Spruce has partnered with personal finance expert Lynnette Khalfani-Cox, The Money Coach, to help you keep your cool while the economy is hot. As one of five children raised by a single mother, she knows from personal experience what it's like to struggle financially.
"The current financial situation may be just the nudge you need to revamp your household budget, or create one if you haven't used one before," said Khalfani-Cox. "And today there are many online tools that can help you develop a workable budget."
Once you have a clearer picture of your expenses and income, you can take steps toward handling your money better now, to ensure a rosier future.
1. Take stock
Budgeting is fundamentally about knowing how much money you're taking in — and how much is going out. First you need to list your income, then all your expenses. To be more accurate, you may need to review the last several months to see where your money has been going. Then differentiate between necessary expenses (like rent/mortgage, utilities, debts, insurance and food) and discretionary expenses (entertainment, leisure).
2. Use today's technology to track and manage your money
If you want to improve your money management skills, Spruce is a new mobile banking platform designed to help with saving, spending, budgeting, planning and building daily healthy financial habits. It helps you stay in control of your money through spending and savings accounts backed with technology that provides you with automatic saving options and financial insights to help you be good with money. Spruce, built by H&R Block and powered by MetaBank®, N.A., combines some of the best features of the leading neobanks with H&R Block's trusted brand and knowledge gained from helping millions of customers every year.
"Spruce helps people set savings goals and keep them," said Khalfani-Cox. "From paying for school to buying a car, Spruce is there every step of the way. There are even options to set up automatic transfers towards savings."
Spruce helps you visually track your savings progress and financial goals through personalized savings tools, helping you see your full financial picture and predict cash flow so you can better prepare for your family's future.
Visit SpruceMoney.com to learn more.
3. Make smart substitutions
One way to spend less on necessities like groceries is to shop smarter. "For example, you can save a lot by choosing store brand products," Khalfani-Cox said, "not just for food, but also for health and hygiene products, and household cleaners."
If you like buying in bulk, shopping at membership chains can also add up to big savings. Many people even save on furniture by frequenting local discount stores instead of big box retailers.
4. Refinance existing debt
If you're carrying high-interest or variable-rate debt such as a mortgage, credit cards or student loans, this is a good time to consider locking in a better rate, before rates go up again.
"You may also want to consolidate multiple loans or lines of credit into one fixed monthly payment," Khalfani-Cox said.
5. Negotiate for a raise
"We're still in the midst of an historic worker's market, leaving many employees holding the cards," Khalfani-Cox noted. "If you didn't receive a sufficient pay raise in 2021, make 2022 the year of negotiating for what you're worth."
Using some of these strategies, you can feel more confident heading into the future, whatever it may bring.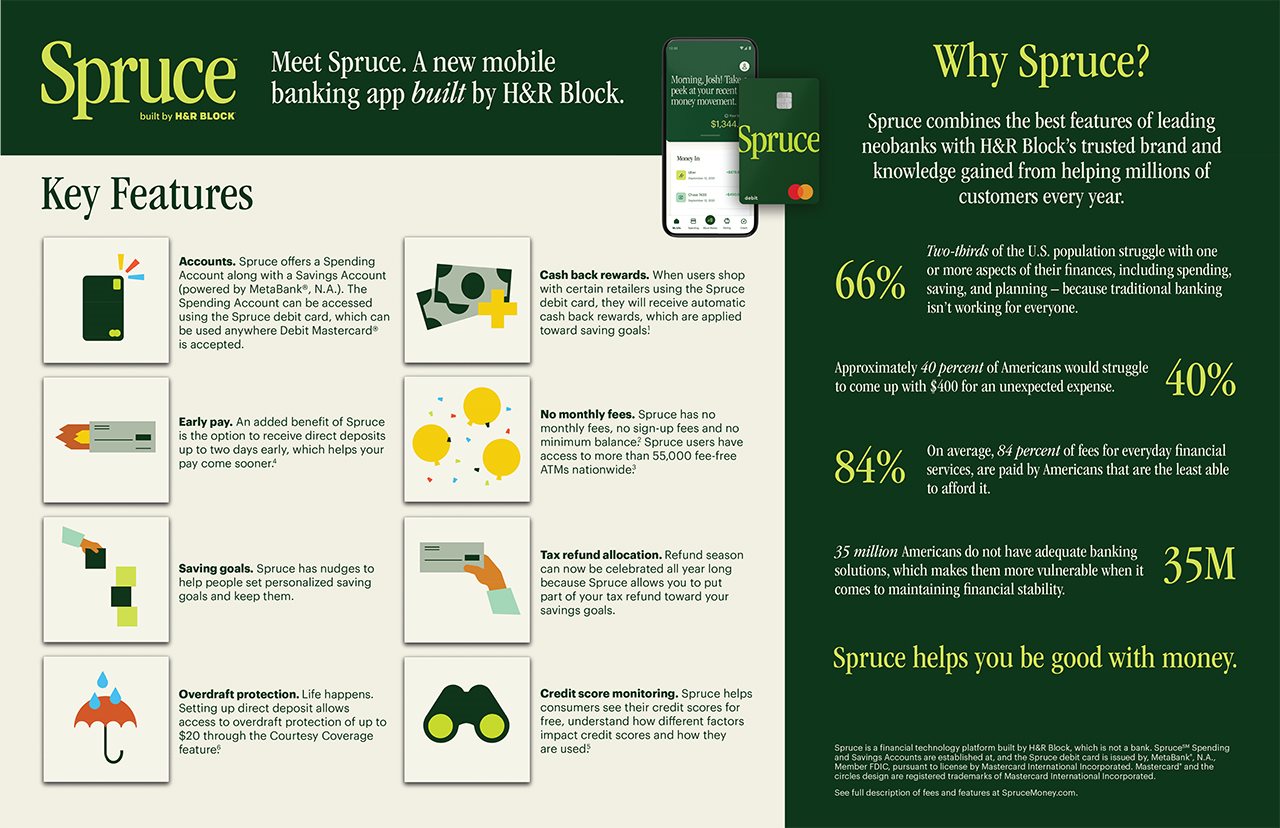 Infographic Footnotes
SpruceSM is a financial technology platform built by H&R Block, which is not a bank. Spruce Spending and Savings Accounts are established at, and the Spruce debit card is issued by, MetaBank®, N.A., Member FDIC, pursuant to license by Mastercard International Incorporated. Mastercard and the circles design are registered trademarks of Mastercard International Incorporated.
See full description of fees and features at SpruceMoney.com.
1 Spruce Rewards are powered by Dosh. Cash back offers and amounts may vary by user, merchant location and offer period. Check the Spruce app for offer availability. Cash back earned by qualifying purchases will be deposited in the Spruce Savings Account. See Spruce Rewards powered by Dosh. Terms for details.
2 Other fees apply for certain uses of the Spruce debit card and accounts. See www.SpruceMoney.com/fees for details.
3 There is no fee to withdraw money at Allpoint ATMs. There is a $3 fee at other ATMs, plus any additional fee charged by the ATM operator.
4 Early access to funds depends on the timing of the payer's submission of the payment. These funds are generally made available the day the payment instruction is received, which may be up to 2 days earlier than the payer's scheduled payment date. To be eligible, account holder must receive $200 in direct deposits over the relevant 35-day period, not including tax refunds.
5 Credit score is FICO Score 8 based on Experian data. Lenders or insurers may use a different FICO Score than FICO Score 8, or another type of credit score altogether. FICO is a trademark of Fair Isaac Corporation. This is a separate service from Spruce Spending and Savings accounts provided by MetaBank®, N.A., Member FDIC.
6 Courtesy Coverage is only available for purchase transactions, ATM withdrawals, and over-the-counter withdrawals using the Spruce debit card. It is not an extension of credit; it is a courtesy exercised at the bank's discretion. To be eligible, account holder must receive $200 in qualifying deposits over the relevant 35-day period and opt in. Negative balances are limited to $20 and must be repaid within 30 days. See Spending Account Agreement for details. See full description of fees and features at SpruceMoney.com.
Sources:
H&R Block independent research
https://finhealthnetwork.org/2021-finhealth-spend-report-shows-financially-coping-and-vulnerable-households-spent-255b-for-everyday-financial-services/
https://www.cnbc.com/2019/07/20/heres-why-so-many-americans-cant-handle-a-400-unexpected-expense.html