Designing from Atlantic to Pacific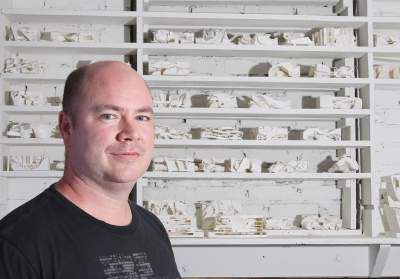 By Cheyene Miller
From playing with LEGO as a child to designing structures in France, assistant professor Martin Summers knows a thing or two about making a plan come together.
"You have to be comfortable with being uncomfortable," said Summers of his profession, which he said requires one to think "abstractly and creatively."
Summers has been in practice for 18 years, and has taught at UK since 2010.
Originally from Henderson, Ky., Summers said he always had an interest in art and design, and even built his own tree house. His uncle eventually suggested that he should study architecture.
"I was always drawing and always making things as a kid," Summers said.
He eventually followed his uncle's advice, earning a bachelor's degree at UK before completing his graduate studies at the University of Central Los Angeles.
Summers worked for the internationally renowned architecture design firm, Morphosis, where he worked on a tower in Paris, a museum in Dallas and the New York City Olympic Village.
In total he spent 13 years in L.A. before returning to his roots at UK to spread his knowledge of architecture.
His work, has become internationally recognized. Summers recently won five international design awards.
Summers said teaching at UK was an opportunity to give back to the place that helped him grow as an architect.
Summers teaches through a "studio based model," in which students have individual and group projects. This semester he and his students are designing an urban visitor center for the Bourbon Trail.
Along with creative thinking and problem solving skills, Summer said his students learn time management and how to work efficiently.
"What you find with most of our students is … they can balance a very creative, abstract side of their brain with a very precise, rational side of their brain," Summers said.
He also stresses to his students that they have all the tools available for a successful career in architecture if they have the proper motivation.
"That's kind of what I'm trying to bring back to the student here, is 'Hey, you have all the education, all the skill you need to go out and operate at the highest level,'" Summers said.