Miguel's serves up more than slices of pizza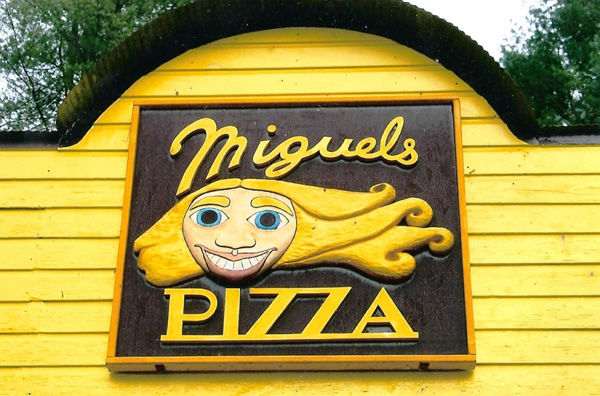 Drive through Central Kentucky and you will likely encounter a smiling face with flowing golden hair resembling the sun on bumper stickers, shirts and tank tops. The logo belongs to Miguel's Pizza and Climb Shop, which for years has greeted rock climbers and tourists when they visit the Red River Gorge.
Owner Miguel Ventura once wanted to see the world. Now the world comes to him in Eastern Kentucky as climbers from foreign countries journey to tackle the gorge.
The sport of rock climbing has gained popularity in the past ten years. Those who tackle the gorge account for $3.6 million in regional economic impact, according to a study done by Eastern Kentucky University.
Emily Ingram, 20, a student at UK from Wilmore, has been climbing for four years. She climbed her very first ever route at the Gorge.
"A lot of UK students climb at the Gorge. My friends go every weekend," Ingram said. "And some usually stop at Miguel's. I have been too many times to count."
Ingram said she met one of her good friends through the Miguel's community and keeps in touch to this day, adding that Miguel's has a tight knit relationship with the area's rock climbing community.
Ventura's family emigrated from Portugal to the United States. They passed through New York City and landed in Waterbury, Connecticut, in the 1960s. Waterbury was known during that time as the "Brass Capital of the World." Ventura said immigrants made their way to Waterbury to work in the factories. As a self-taught artist, he wished to see more.
"I was an artist," Ventura said, "so I tried to see what the world was like."
Once on Nantucket Island, Ventura befriended a man from Kentucky, Neville Pohl, who worked putting shingles on roofs.
"He had the 'hots' over some girl I was with," Ventura chuckled, "but we kept in contact, and I visited in Kentucky."
On a visit to Kentucky for a wedding, Ventura discovered Red River Gorge. Pohl told him about a property investment he made at the gorge, and he invested too. Ventura and his wife, Susan, made a life-changing move, packing up and moving impromptu to Kentucky with nearly no possessions and his wife on the verge of giving birth.
In 1984, Ventura and his wife rented an old storefront called The Old Jottem Down Store. An ice cream shop emerged called The Rainbow Door.
"We had lots of business, but we couldn't make a living. We were just surviving," Ventura said.
When authors and climbers Tom Martin and Martin Hackworth saw the number of rock climbers hanging around the property, they created a second investment.
"They came and saw potential here, so I sold the other half (of the building) and sold climbing gear out of it," Ventura said. "I didn't know a thing about climbing moving to Eastern Kentucky. I just thought it was something rich kids did who didn't work."
Ventura quickly learned about the creativity and community behind the sport of rock climbing from the climbers who made his store a home.
Ventura said the choice to switch from ice cream to pizza was a bit of a lucky experiment, adding that climbers were beginning to hang around the shop more and needed a place to eat.
The Venturas tried experimenting to see what the climbers would eat. They tried sandwiches first, then switched to pizza.
"We would bring pieces out to the climbers and ask, 'Hey, how do you like it?'" Ventura said.
Miguel's is a family-run business.  All of the dough and crusts are handmade and topped with homemade tomato sauce. Ventura's family included grain millers and bakers for their village in Portugal, "so I knew how to make the dough."
All of the ingredients are fresh, some even from local farms. Customers can choose more than 30 different combinations to create the pizza they desire.
"I know a ton of college kids go to the Gorge and stay at Miguel's," Ingram said. "Some go just for hiking and then for the amazing pizza at Miguel's."
Fulfilling necessities for climbers and the surrounding community brought both success and obstacles according to Ventura.
"Our life has really been the luck of the Irish," Ventura said while explaining how just recently, a tree had fallen and missed a car by an inch, and no one happened to be sitting near it.
Ventura said he soon realized climbing was an international community, as most of the climbers who stay come from South Africa and Switzerland. Per Ventura, in the 1990s people who visited Miguel's could after hear 10 languages being spoken around the restaurant due to the diversity of its visitors and the climbing community.
"I have met so many people from around the world," Ingram said. "The friend I mentioned meeting earlier was from South Africa and he was living at Miguel's for about 2 or 3 months."
Ventura said the entire experience has been good for him.
"It's been a really successful and satisfying thing financially and spiritually," Ventura said, "Being around creative people keeps me on my toes."
For more information on Miguel's Pizza and Climb Shop, visit http://www.miguelspizza.com.