'Once on this Island' leans on actors' versatility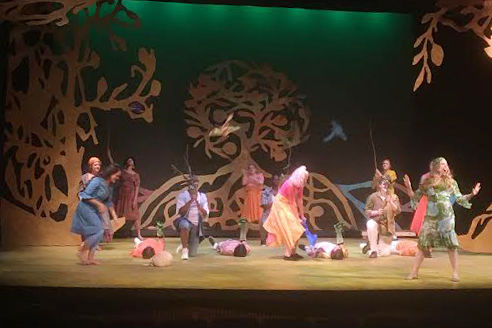 Despite last minute changes in director and vocal director, the Department of Theatre and Dance decided the show must go on. 
"Once on This Island" was originally set to be directed by faculty members who, at the last minute, were unable to fulfill their duties due to illness and other job opportunities. Over spring break, Marianne Phelps and Rachel Black decided to collaborate and ensure that the musical would succeed.
Although it has been a whirlwind journey, Phelps says the process is easy thanks to the cast.
"The cast has been really respectful, and everyone has been really enthusiastic and helpful and flexible," Phelps said. "It came as kind of a shock to me, but all the things that you think may go wrong have actually been fairly seamless." 
Since taking over the show, Phelps and Black have worked on finding a balance between respecting the former director's vision and incorporating their own personal ideas. 
"We just kind of got back to the roots of it," Black said. 
These "roots" come from the novel "My Love, My Love," on which the play is based. Between this research and their own interpretations, Phelps and Black have created their own vision. According to Phelps, one of their focus points has been the omnipresence of the gods in the show and the role that fate plays.
"We have the gods on the stage probably 90 percent of the time, which was not originally set out for the show," Phelps said. "But that was just something that spoke to both of us, so it was something we added to what was already happening."
In addition to Phelps and Black, the performance will include collaboration with community members including two children and two department alumni, Darian Sanders and Bradley Wehrle. Sanders is the dance captain and will be playing Papa Ge, while Wehrle has been working with Phelps on set design.
Phelps and Wehrle have chosen to forgo a complex set in favor of something more simplistic. According to Phelps, this show requires many levels on stage, and they chose to do this using the actors' bodies, including having actors lying down on stage or on each other's shoulders. 
"This show leans heavily on its actors," Phelps said. "It kind of has a one-man band approach."
As opening night approaches, Black is thankful for a cast and crew that has been willing to work with her and Phelps through the process. 
"The students have been little pieces of clay and let us mold them. They've been willing to work with us as we learn, too," Black said. "The students have really stepped up in a professional way and helped the show come together."
"Once on This Island" performances will take place in the Guignol Theatre April 20 through 22 at 7:30 p.m. and April 22 and 23 at 2:00 p.m. Tickets are $15 for students with a valid ID and $20 for the public.