Students unwind before finals with silent disco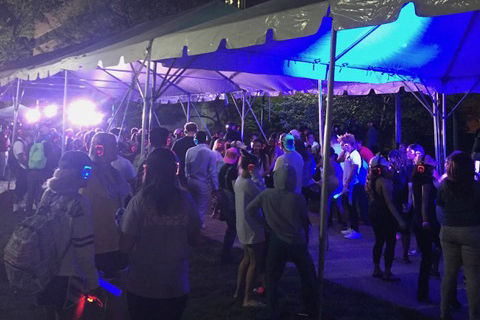 UK Student Activities Board hosted its first ever silent disco Wednesday evening at the Mining and Minerals Walkway on campus.
It was a great way for students to take their mind off of studying with Crank & Boom ice cream, arcade games, airbrush hats, human hamster balls and music.
"I was researching cool ideas for our last spring event besides the carnival and came across the idea for a silent disco," SAB director of concerts Jess Loflin said. "It was fairly simple. I found a headphone company that could rent us the headphones and DJ Warren Peace was willing to help out."
Loflin said that she thought Crank & Boom ice cream would be a good mix, since it is a Lexington hot spot right now. It was a big hit at the event. The line for ice cream seemed never ending until it shut down an hour after the event started.
Marketing senior Micha Mckitric said that he saw this on social media and thought it would be a unique event to attend.
He also pointed towards a girl at the top of the hill next to William T. Young library and said "she probably doesn't even know what's happening because it's just a bunch of people dancing, but she doesn't hear the music."
The event had two DJ's that had separate channels, which allowed the listeners to alternate between stations. DJ Warren Peace had more of the throwbacks and pop stations, while DJ J West had more of the current hip-hop, R&B and rap songs. 
The silent disco was DJ J West's first event with UK, while DJ Warren Peace has worked with SAB and other UK organizations before for events such as DanceBlue. DJ Warren Peace was told two to three months ago about this event and he asked DJ J West to help out.
DJ Warren Peace said he was excited about the event and it was a beautiful day for it, but that the event was completely night and day at the beginning.
"I just wish we could get more people under the tent to make it even better," DJ Warren Peace said.
That's just what happened, the silent disco tent went from having about 20 people dancing to about 80 to 90 jumping around in groups singing and dancing.