First dean of Lewis Honors College announced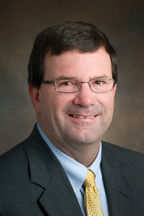 UK Provost Tim Tracy announced the first dean of the Lewis Honors College in a campus-wide email Monday.
Christian Brady, formerly the dean of the Schreyer Honors College at Penn State University, will begin the job August 1. The UK Board of Trustees still has to confirm his permanent appointment.
Brady spent ten years at Penn State, where he also taught courses on classical studies and Jewish studies, according to his Penn State online biography.
Before working at Penn State, he served as director of the Tulane University Honors Program. His own degrees are from Cornell University, Wheaton College and the University of Oxford.
Tracy cited Brady's many accomplishments at Penn State, including raising more than $80 million and tripling applications to the college without giving up selectivity.
In the fall of 2016, UK received more than 3,600 honors applications for only 500 spots.
"Christian is passionate about honors education and the prospect of making the Lewis Honors College one of the finest in the country as part of a distinctive undergraduate educational experience at UK," Tracy wrote.
The search committee was chaired by sociology professor Claire Renzetti and Gatton College of Business and Economics Dean David Blackwell.
For the last year, humanities professor Phil Harling has served as interim dean of the Lewis Honors College.
"He (Harling) has helped create a solid foundation that Christian will inherit and build upon," Tracy wrote in the email.
The Lewis Honors College was made possible by a $23 million donation from UK alumnus Thomas W. Lewis and his wife Jan. This is the largest donation to UK ever, according to a 2015 Kernel article.