How to Make an Impact This Global Volunteer Month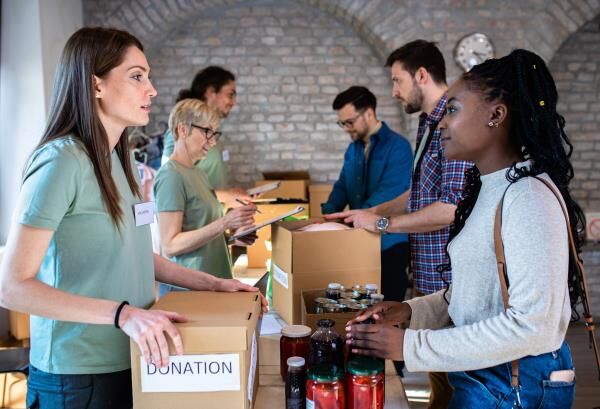 (StatePoint) If you're like many people right now, you're feeling a particular sense of urgency to roll up your sleeves and be a force for good.
"When we face difficult times, as we have during the pandemic and now with the war in Ukraine, we also see the best of humanity and it's natural for people to want to help," says Natalye Paquin, president and CEO of Points of Light, a nonpartisan, global nonprofit organization that inspires, equips and mobilizes millions of people to take action that changes the world. "During times of uncertainty, one thing we can be certain of is that the most powerful force of change is one person making a positive difference."
That's why this April, which is Global Volunteer Month, Points of Light is leading a joint effort with Phillips 66 and The UPS Foundation to activate individuals, nonprofits and corporate partners to recognize individual action and inspire more people to volunteer in their communities.
"Throughout the pandemic and in recent months, we've seen powerful stories of everyday citizens rising to the occasion to support their local communities and those abroad," says Paquin.
Getting Inspired
Volunteers can come from all backgrounds, be of all ages and help in countless ways. Let these amazing stories behind Points of Light's Daily Point of Light Award honorees inspire you to action:
• 17-year-old Henry Morse of New Orleans helps run CultureAid Nola. "We are a no barrier, no stigma food distribution center that helps feed over 600 families a week." Morse arrives at the center every Saturday at 5:30 a.m. and leads volunteers in packing and handing out food to members of his community. "I got involved in March 2020. It grew into something that I am extremely passionate about," says Morse.
• After a 30-year Navy career, William Hicks now volunteers in the AARP Tax-Aide program. In addition to personally preparing tax returns for senior and low-income individuals pro bono, he serves as training coordinator for the state of Maryland, leading efforts to train and certify tax preparation volunteers.
• "A small drop in the ocean can make a big difference in the world," says fourth grader Rayansh Boddu, who joined Recycle My Battery as a vice president and recruited more kids to spread the word. He's also actively working on Smart Can, which will use AI technology to sort materials needed for recycling in trash. He's placed over 20 battery bins in different locations and collected more than 25,000 batteries for recycling so far.
Getting Started
Motivation among Americans is high. In a recent Points of Light survey, a third of respondents said they plan to volunteer more than they did before the pandemic. But figuring out where and how to make an impact is not always straightforward and online resources can help. Points of Light Engage is the world's largest digital hub for in-person and virtual volunteering and community engagement opportunities. There are also 177 innovative volunteer-mobilizing organizations in 37 countries that are a part of the Points of Light Global Network. They provide real-time information on pressing community needs. You can find these by visiting pointsoflight.org/gvm. The site also offers tips for safely volunteering, along with inspiration for alternative means of getting involved through Points of Light's Civic Circle, such as using your purchasing power, lending your voice to a cause or urging your employer to action.
"We hope you'll take the time this month to look for volunteer opportunities and to thank a volunteer in your life," says Paquin. "Every action, no matter how small, can have an impact and change a life."
Photo Credit: (c) Zoran Zeremski / Adobe Stock