Retired Shepherdsville officer proposes to girlfriend with help of UKPD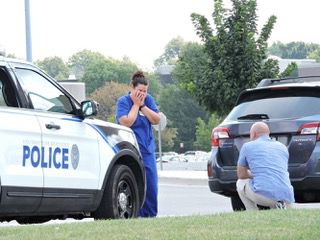 A retired Shepherdsville police officer got a little help from the UK Police Department to propose to his girlfriend on Aug. 10.
Rocco Besednjak decided to propose to his future fiancée, Lauren Vincent, after he realized how much he wanted to spend the rest of his life with her. The couple has been together since September of last year, and Besednjak said he knew around the end of March he wanted to ask Vincent to be his wife.
Vincent works for the University of Kentucky Children's Hospital as a nurse manager in the pediatric forensics unit and was on call the day Besednjak proposed. He had hoped it wouldn't interfere with his proposal, and luck happened to be on his side that day.
"It was nervewracking trying to plan everything," Besednjak said. "Finding a good time and day to figure out how to do it was the hard part."
Besednjak enlisted the help of Dr. Christina Howard, Vincent's supervisor. Howard asked Vincent to drive her car because of her pregnancy. They were driving to the Ronald McDonald House to pick up a donation for the hospital.
UK Sergeant Michael Pope then pulled Vincent over en route to the McDonald House, telling her she was dragging something behind the car. When Vincent stepped out to see what it was, she found Besednjak waiting on his knee to ask her to marry him.
Vincent first chastised Besednjak for being on his knee after just having surgery.
"I kept pressing her for an answer and finally she said yes, and I thought 'Thank goodness, now I can get up,'" Besednjak said.
The proposal took five or six months to plan and involved so many people Besednjak lost count.
"I thought it was a neat way to help out, definitely a creative way for him to do it," Pope said.
Another person who played a role in the proposal was Antonio Pantoja. Pantoja recorded a video, which he then posted on his Vimeo page. The video also highlighted the trauma Besednjak faced last summer, leading to his medical retirement.
During a traffic stop last July, Besednjak was drug behind a vehicle belonging to Taira Litsey, who had several warrants out for her arrest, including second- and third-degree assault on an officer. Besednjak and another officer had stopped Litsey's vehicle when it was discovered she was driving on a suspended license.
One of the officers asked Litsey for her keys and placed them on the hood of her vehicle while Besednjak went back to his car to check for more information on Litsey and her passenger in the car, Logan Lamb. The traffic stop took a dangerous turn when Besednjak asked Litsey to step out of the vehicle for her felony warrants.
Litsey then grabbed the keys from the top of the car, telling officers she needed to roll the windows up first. Instead, Litsey gassed it, taking Besednjak with her. Besednjak was dragged 20 to 30 feet before Litsey ran over his leg and he rolled onto a curb, hitting his neck, according to an officer who was on the scene.
Besednjak suffered four hernias in his neck and four in his lower back. He had surgery back in September, and seven days before Besednjak planned to propose, he underwent knee compression surgery, something he didn't have planned when he decided to ask for Vincent's hand in marriage.
Though the accident led to his retirement from the police force, Besednjak said he still considers himself a man of the law, which is why he planned this particular proposal.