The Summit was full of holiday cheer on Saturday with Lights Up event and Maker's Mark Pop Up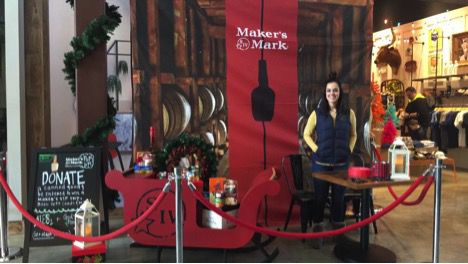 Maker's Mark hosted a pop up event this Saturday, Dec. 2, at The Summit to accept canned goods and donations for those in need this holiday season.
The Summit was hosting its first annual Lights Up day on Saturday, which featured a visit from Santa Claus, making this day ideal for the Maker's Mark pop-up event. The Barn at The Summit, in partnership with God's Pantry Food Bank and Ale-8-One, collected canned goods and cash donations for families in need.
Each 21-plus person who donated got the chance to enter their name into a drawing for an all-local giveaway featuring a Maker's Mark VIP experience, Ale-8-One prize baskets and The Barn gift cards.
"We came here to see Santa and just thought to stop by the Maker's booth," said Joseph Stallman, a Lexington native who was visiting The Summit with his family. "We didn't bring any canned goods, but I donated some cash so that we could be entered to win the gift baskets. It feels good donating, this holiday season is about giving."
The event's hosts were spread out throughout the day and featured Kentucky companies who are partnered with The Summit at Fritz Farm. The Summit team representing The Barn worked the stand in the morning giving out free Barn restaurant samples and hot drinks. Ale-8-One followed after that working the stand giving out free Ale-8 sodas to everyone who made a donation.
"This type of event is great during this time of the year," said Kaelyn Dannenfelser, event marketing for Ale-8-One. "It really helps people in need and gives people who donate a chance to win some cool prizes."
To end the event, Maker's Mark worked the stand in the evening, giving people who donated the opportunity to receive a hand-dipped Christmas tree ornament. The Marker's Mark booth was busy all day with people donating and enjoying the festivities throughout The Summit.
A helicopter circled around the air carrying Santa Claus at the Lights Up event and acted as a viewing experience for everyone to see. The atmosphere was very colorful and bright, getting everyone excited for this holiday season.