City Council candidate Hannah LeGris aims for 'open, accessible and transparent' leadership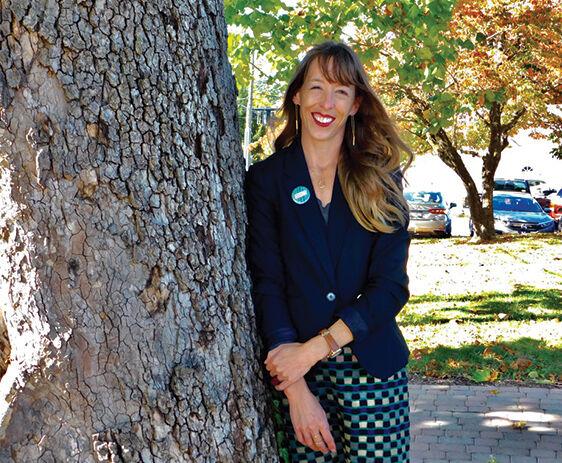 Hannah LeGris's work in Lexington activism started while she was living off $9,000 a year. She worked with AmeriCorps VISTA, a domestic Peace Corps focused on poverty alleviation.
"Because you're doing poverty fighting work, you're also living on very limited means," LeGris said. "You're a little more intimately aware…of what it's like to be in food stamps, what it's like if you get bedbugs and you don't have a washing machine or a dryer. It's really rewarding; I got to meet so many people who cared so much about Lexington."
LeGris is also on the boards of the UK Women's Forum, CivicLex and the International Book Project. Through her work in the nonprofit sector, she got to know Lexington's arts community, helping to build the Lexington Film League. She also worked at the Carnegie Center for Literacy and Learning, developing youth and family programs.
"I thought that I would be [in Lexington] for a year, and ultimately, I've been here 12 years," LeGris said. "I knew I wanted to work with young people to get them engaged in our community."
LeGris's motivation to run for office came from her time working at UK. She taught Writing, Rhetoric and Digital Media classes and directed recruitment for the Lewis Honors College. She enjoyed helping people tell their stories and communicate what they could bring to the Lexington community, and in doing so, she saw connections between teaching and her work with non-profits.
"I found it really rewarding to get [students] connected to the Lexington community with service and civic engagement," LeGris said. "I started to think a little bit more about the connection between community-based service…and public service and what it would look like to serve our city from the inside."
LeGris is running against Jessica Mohler in the non-partisan Urban City Council race for Lexington's District 3. She was encouraged to run by other council members, such as Debra Hensley and Jake Gibbs. If elected, she will fill the seat once occupied by Gibbs, who died unexpectedly in March.
"All the time I spent listening to people and trying to get them connected to Lexington and to give them opportunities here…could work well with what a public servant does," LeGris said.
District 3's policy mainly focuses on four areas: finance, social services, environment and public safety. LeGris said her main focus is to provide equitable access to resources and to "make city government more legible."
"It's important to listen to people, to connect them to each other and to advocate for their interests," LeGris said. "I want to make sure that the way that I lead is as open, accessible and transparent as possible."
LeGris cited the economic difficulties caused by the COVID-19 pandemic as Lexington's biggest issue. She said that Lexington must keep in mind both its municipal facilities and its people while making a plan to overcome these difficulties, as "our budget reflects our values as a city."
She also plans to collaborate with state government and the Chamber of Commerce to attract additional industries to Lexington, specifically technology industries. This, along with implementing additional tax districts, would give more opportunities to Lexington's workforce and make the city as a whole less dependent on payroll taxes.
"In the coming years and months, we are going to have to overcome a huge economic crisis and budgetary shortfall," LeGris said. "It's on us to provide economic opportunity for a wide range of people in or community, for the health and the safety of people…and also for the viability of our economy,"
LeGris is also focused on providing affordable housing to more citizens through community land trusts and inclusionary zoning (where certain regions are earmarked for lower-income residents). She also proposed using census data to more accurately set housing prices.
"Safe housing is a human right, and it's really critical that we address this issue intelligently," LeGris said.
When asked about environmental concerns, LeGris described goals to achieve carbon neutrality, where carbon reduction efforts balance carbon emissions. She also desires to expand recycling programs through a city sustainability coordinator, protect and grow Lexington's tree canopy through partnerships with urban forest initiatives, and add more bike lanes to Lexington.
"[Lexington] has prioritized the single-driver vehicle," LeGris said. "People need to feel safe biking and walking."
LeGris said she has not met a lot of direct opposition to her ideas. However, she has met with people who have different views than her. She said that in these interactions, she tries to find a common ground between her and the other person.
"What [all people] have in common is they're invested in the vitality of our city. People are going to have different priorities and different points of interest," she said. "My goal is to be a catalyst…so that people who might think they are on opposite sides of things…could sit down at the table so we can have more creative solutions for our city."
Overall, LeGris's main goal is to understand people's experiences and advocate for them. She said that while it is easy to come up with ideas on one's own, putting these ideas into practice requires a partnership between a person and their community.
"Things don't just have to happen around you in the city," she said. "By creating more access to power and to governmental systems…we can get more people involved in helping make our city into a place that serves everyone."