The craze of primary recruitment came to an end when a flock of 1152 new sorority members found their way busing "home" on the night of Sept. 5, 2023.
Rather than the tradition of running home from Memorial Coliseum, active construction caused new members to take charter buses from Kroger Field, which dropped the new members off near the Sigma Nu fraternity house. 
In previous years during primary recruitment, the 14 sorority chapters would fill the stands in Memorial where the potential new members would open their Bid Day cards and organize themselves into the different chapters, shouting chants and getting their first taste of the new sisterhood. 
"Obviously it's a little bit different, which is disheartening. We all learned to run home from Memorial, but I'm open to change," Lauren Lange, a senior of Tri Delta, said.
The change of scenery wasn't the only thing different than years past.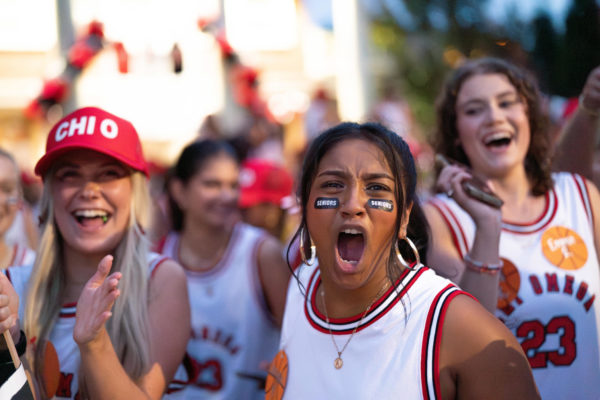 Parents of the potential new members were welcomed to join their children at Kroger Field and lined the sidewalks to congratulate their soon-to-be initiated daughters.
After busing from the field and reaching the drop-off area, the new members were left to celebrate with their chapters where each sorority stood decorated in their own theme with music blasting and activities for all the members to enjoy.
Emma Klocker, a freshman elementary education major, went through the process of rush week and was every bit excited to find her place in a sorority.
"I wanted to find a family away from home because I'm from out of state. I wanted to find the sisters I never had," Klocker said.
Klocker found herself just that, celebrating at the Alpha Chi Omega sorority house, where orange-colored powder filled the air and Orange Crush soda was handed out in honor of the chapter's "Crushed It" theme.
Other sororities, such as Tri Delta, traveled back to childhood memories of "The Lizzie McGuire Movie," where they emphasized the theme "This Is What DDDreams Are Made Of."
"We look forward to this all year," Brenton Flynn, a junior in Tri Delta, said. "We're so excited for every single girl. It's just the best."
For future years to come, there has not been a decision made in regard to UK Panhellenic's use of Kroger Field for future bid ceremonies. 
"I think that UK is ready to make it work. I know other schools do it, so I think we're prepared to make a change," Lange said.