Food Connection hosts fifth annual Kentucky Local Food System Summit
The Food Connection, the Kentucky Department of Agriculture and the Kentucky Center for Agriculture and Rural Development partnered to host the fifth annual Kentucky Local Food System Summit on March 29 at Kroger Field.
The mission of the conference is to bring in food producers, students, consumers and businesses from all around Kentucky to learn more about creative strategies and partnerships to promote a more healthy and equitable food economy. 
The Summit formed three breakout sessions consisting of "value chain coordination," "cultivating a just, equitable, and resilient local food system" and "growing further in the food industries." 
Krista Jacobsen, faculty director of the Food Connection, said the Summit focused on food production by farmers to buyers and all of the challenges in between. The Summit gives farmers opportunities to keep products local and connect with technical assistance resources. 
"Over twenty percent of the food on UK's campus is locally produced in the state of Kentucky," Jacobsen said. "What a lot of students don't know is that a lot of the produce served at the dining halls — like vegetables, dairy, chicken — and food at the stadium are locally produced in Kentucky. "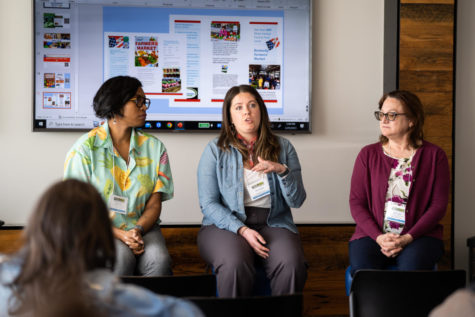 Jacobsen said Kentucky has been a national model for focusing on getting produce from farm to university. The conference aimed to address the economics, logistics and investments brought on by the production of food, focusing on the technical and promotional side of production.
"This conference is really focused about where the challenges are and where the success is, so we come together on the challenges and focus on how to face them," Jacobsen said.
Tanya Whitehouse, Food Connection program member who also helps with classes taught at The 90, expressed the importance of the conference and the impact it can have on how community members and professionals purchase meals.
"I'm thankful for the opportunity to gather in the same room with this many people working in food systems trying to improve the food that everybody needs," she said.
During breakout session two, Creating Investments in an Equitable Food System, health and sciences mentor Christy Brady and Whitehouse discussed the importance of prioritizing nutritious food while also maintaining a practical cost. 
Brady and Whitehouse spoke to attendees about how to create an affordable and nourishing food plan for themselves and families of all sizes without running out of produce or going over the monthly budget. 
Like Whitehouse, Brady also expressed the importance of opportunities brought on by the summit. She discussed how to get people a bit more money by either lowering the cost of food or increasing the amount of money they have.
Brady and Whitehouse opened the floor to outside opinions, all discussing ways the food systems can improve to meet the different lifestyle needs of individuals and remain well-rounded. 
"Teaching food as a social determinant of health can help recruit more advocates for a just and equitable food system," Brady said.